Book With Confidence: Orbridge 100% Refund Guarantee
The French have a verb for the happiness generated by anticipation: se réjouir. It means to "capture the experience of deriving enjoyment in the present from anticipating the future."
"Anticipating the future" for many includes plans to travel.
As pent-up demand continues to increase in the travel industry, eager, but cautious, guests are looking to balance the essential need of having something to look forward to with responsible choices.
Supporting this positive momentum, Orbridge has launched an industry-leading, hassle-free reservation policy.
Effective January 1, 2021, and applying to new reservations received by Orbridge on or after January 1, 2021, guests of all but two destinations (Antarctica Discovery and Trans-Siberian Railway) now have the flexibility to cancel reservations for a full refund of all monies paid for the main program and for any pre-tour and/or post-tour, provided the cancellation notice is received by Orbridge more than 90 calendar days prior to the tour's scheduled departure date. (Complete terms and conditions can be viewed at terms.orbridge.com.)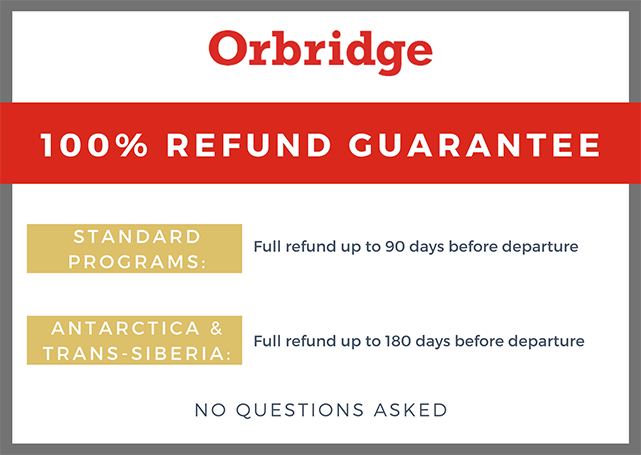 The new customer refund terms offer additional peace of mind to future travelers weary of feeling vulnerable by unpredictable constraints of a rapidly evolving world health situation. As with Orbridge's enhanced wellness protocols, processes and procedures will continue to develop organically as needs arise to best serve our guests.
In addition to our more user-friendly terms, we at Orbridge remain rooted in other opportunities to provide value, such as waiving the single supplement fee for our Flavors of Northern Italy travel program, and maintaining our commitment to sustainability by planting 100,000 trees every year.
Alongside our guests, we too at Orbridge feel the happiness generated by anticipation of the future. Cheers to a new chapter and se réjouir!