Selva Capuzza: your perfect home for a relaxing week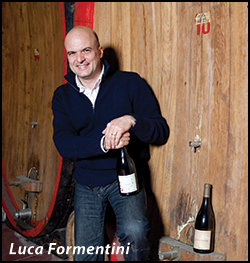 Tucked away near the shores of Lake Garda in Northern Italy is a family farm turned successful winery and hotel property, owned by Luca Formentini and his family. The farmhouse apartments, winery, and attached restaurant are the result of many years of dedicated work and provide award-winning wines, delightful accommodations and charming hospitality for all who visit.

Podere Selva Capuzza (the farm and winery) and Borgo San Donino (the farmhouse-style apartments) are perfectly Italian—a careful blend of the old and the new, rustic yet wonderfully appointed. It's the perfect place to relax. Guests stay in spacious accommodations; featuring tile floors and simple, locally-made furnishings, with marvelous views of the vineyards and surrounding countryside. The carefully manicured grounds invite visitors to indulge in a relaxing stroll, have a glass of wine on the patio, or perhaps enjoy a dip in the swimming pool.

Breakfasts are taken in a charming morning-room off the central courtyard, while dinners are found in Cascina Capuzza just a short stroll through the vineyards. Tasting menus combine well-known and local Italian cuisine with family-produced wines.

The award-winning Selva Capuzza winery produces a wonderful selection of varietals—red, white, and rosé, all under the careful expertise of the Formentini family. Nationally-recognized three years in a row for their eco-friendly practices and dedication to sustainability, the winery takes great pride in both their cultivation of the vines and conservation skills. The Formentinis understand how proper care of the land produces both better grapes (and wine) and protects the land for future generations. Luca Formentini loves to show off his vines, describing how each was acquired, how they are cultivated, and how pruning and harvesting techniques ensure the vines will be protected for many years. It's clear this farm is so much more than just a business, it's a passion.

The Selva Capuzza vineyards are only a short ride from other well-known Italian wine-growing regions such as Valpolicello, Soave and Bardolino. And visitors can also learn about and taste other well-known Italian staples such as balsamic vinegar, a huge variety of cheeses, pastas, and of course sweets. The flavors, and the people, are unforgettable.

Click here for full details on our Flavors of Northern Italy program, which features the Selva Capuzza property.