Mashpi Lodge: an oasis amidst the clouds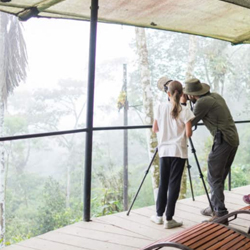 On the northwestern outskirts of Quito, Ecuador sits a delightfully secluded ecological treasure named Mashpi Lodge.

Designed by Roque Sevilla, a renowned environmentalist and former mayor of Quito, this amazing hideaway in an equatorial rain forest combines unsurpassed natural beauty and a staggering variety of wildlife with stunning contemporary architecture, and a dedicated local staff of guides, scientists and wildlife experts.

Situated within the city borders, but seemingly a world away, Mashpi Lodge is perched at an elevation of 3,117 feet above sea level, in an area with a near-perfect combination of tropical climate, equatorial sun, and high rainfall—providing an environment where native plants and animals thrive. More than 400 species of birds, plus a multitude of insects, reptiles, amphibians, and mammals are common to the area. Everything from a delicate Lycaenidae butterfly to the sleek puma call the reserve home, and can often be spotted by visitors.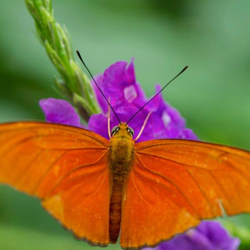 The lodge itself is tucked neatly into the surrounding vegetation, with floor-to-ceiling windows throughout, providing guests the sense that they are part of the forest. Built using sustainable construction methods and modern technology, the guest rooms and common spaces employ wood, glass, and steel in perfect harmony with the outside beauty.

There are stunning dining and lounging areas, a front viewing platform positioned over the surrounding plateau, an expedition room featuring an extensive library, and a laboratory where staff work on projects carried out in the nearby reserve.

Guests can enjoy guided walks through the reserve to learn about the metamorphosis of the species of butterflies in the area, study tiny atrato glass frogs found in the forest, watch a variety of tropical birds nest and feed, or enjoy the "sky bikes" or a "dragonfly" ride—two unique ways to traverse through the forest canopy.

Orbridge is excited to offer a pre-tour to Mashpi Lodge with its Galapagos Islands program.