For questions or to reserve:

umalumni.orbridge.com


(866) 639-0079

Main Program: October 14, 2023 – October 22, 2023
Pre-Tour: October 11, 2023 — October 15, 2023
Post-Tour: October 22, 2023 — October 25, 2023
Flavors of Northern Italy

From art-packed museums and mosaic-filled cathedrals to Roman ruins and hill towns amid vineyards that produce some of Europe's best wines, Northern Italy's riches are plentiful, wide-ranging, and ripe for discovery. Embark on a cultural and gastronomic adventure with this signature journey where days are dedicated to the joy and art of good food and wine, and evenings are for quiet relaxation at guestrooms in the country.
NOTE: This program information is current as of 10/1/2023.
Program Highlights
– With your small group (maximum 19 guests), enjoy seven nights accommodations at a historic country farmhouse amidst a wine and olive oil-producing estate.
– Join intimate cooking classes with locals who share their families' histories and favorite recipes.
– Take in the area's layered history, with visits to Verona's 2,000-year-old Roman arena and the magnificent medieval Castelvecchio Bridge.
– In the famed Valpolicella and Trentino wine regions, visit family-owned and -operated vineyards, meeting the esteemed vintners and discovering their unique varietals. Partake in exclusive tastings and presentations, and learn how wine-making traditions have been passed down through generations.
– Admire the panoramic beauty at captivating Lago di Garda—Italy's largest lake.
– Delight in a cheese-making demonstration and tasting in the heart of Lessinia, home to a delicious variety of Italian cheeses.
– See Palazzo Ducale di Mantova—a UNESCO World Heritage Site—which was the royal residence of the Gonzaga family from 1328 to 1707.
– Meet a renowned winemaker who specializes in creating Amarone. Then retreat to a nearby restaurant for a polenta-making demonstration, featuring Amarone, and dinner.
– Enjoy a special excursion near Modena for a tasting of aged balsamic vinegar during a convivial meal with the property's owner and his family.
– Relax during a boat tour around Lago d'Iseo, featuring mesmerizing clear water and stunning mountain scenery, followed by touring on land.
– Explore the winery cellar at Al Rocol and learn how painstaking attention to detail produces wines of consummate elegance and complexity.
What's Included
7 nights accommodations
7 breakfasts, 5 lunches, and 7 dinners served with wine, each incorporating a variety of Northern Italian preparations and ingredients
All lessons, private tours and tastings, and unique small-group excursions noted in the 9-day itinerary
Full guiding services of an Orbridge Travel Director and expert local guides
Private motor coach transportation
Luggage handling
Gratuities to Orbridge Travel Director, local guides, drivers, and wait staff for included meals
Airport transfers for guests arriving and departing during the suggested times
Itinerary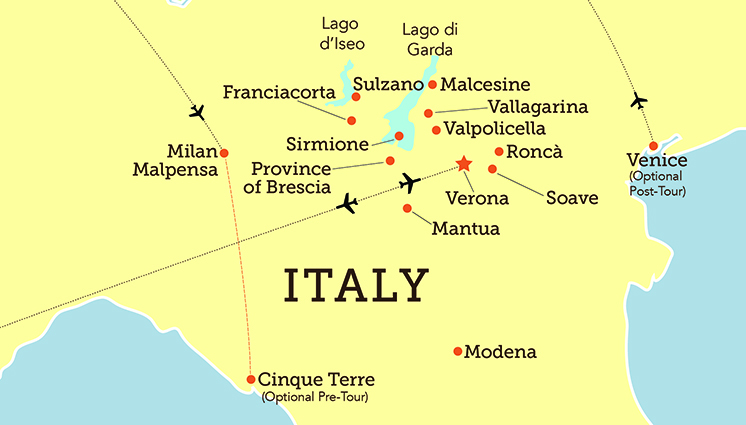 Day 1: En route from U.S.
Saturday, October 14, 2023
Day 2: Arrive in Verona, Italy / Province of Brescia (Selva Capuzza)
Sunday, October 15, 2023
Welcome to Italy!
Transfer to Selva Capuzza—a charming Italian farmhouse on a historic, country wine estate in the Province of Brescia—which will be home base for this week's adventures. Escape the bustling Verona motorway and experience a striking atmospheric dichotomy as paved roads transform into seemingly endless vineyards dotted with towering cypress trees.
Upon arrival at Borgo San Donino—Selva Capuzza's appartamenti—warm greetings await, making each guest feel as if they've visited countless times before. The property evokes romantic dreams, where every aspect ignites the senses. Remarkable vine-covered stone walls, fresh countryside air, and songbirds trilling lively lilts set the stage for the exciting days to come.
Settle into your accommodations before meeting fellow travel companions to stroll through the vineyard to Cascina Capuzza, Selva Capuzza's restaurant, for a welcome drink and dinner.
Overnight: Borgo San Donino (D)
Day 3: Selva Capuzza
Monday, October 16, 2023
After a leisurely breakfast, join together to learn the art of preparing fresh pasta and desserts. Chefs from Cascina Capuzza will share their family's traditions, tips, and tricks as you try your hand at making a few pasta varieties. Prepare an assortment of traditional sweet treats, including salami di cioccolato and Cascina Capuzza's trademark tiramisu! Then, retreat for a lovely lunch, featuring the freshly made fare paired with wine from the property.
After lunch, enjoy a walking tour of the property including an olive oil tasting and wine presentation.
Later, gather for another lovely dinner at Cascina Capuzza.
Overnight: Borgo San Donino (B,L,D)
Day 4: Verona / Valpolicella
Tuesday, October 17, 2023
Today, explore Verona, a UNESCO World Heritage Site, with a long, colorful history and infinite artistic architectural landmarks. Meet with a local guide for a panoramic tour around the city to view the Renaissance Gates of the 16th century and various Roman monuments.
Then set out by foot for a guided walk along Italy's second longest river, Adige, crossing the 14th-century Castelvecchio Bridge—an iconic photography opportunity—toward the city center. Stop for an inside visit at San Zeno Basilica to admire its Romanesque architecture, centuries-old frescoes, and exceptionally detailed 12th-century bronze doors.
Continue to Piazza delle Erbe, where the courtyard is surrounded by quaint cafés being guarded by the Statue of Dante, and saunter the cobblestone streets to capture a glimpse of Juliet's balcony. Visit the Roman amphitheater, Verona's best preserved Roman monument. Once an arena that hosted jousting matches and carnage-filled gladiator games, the current structure—impacted by numerous earthquakes throughout the years—serves as an open-air theater for operas and modern music performances.
After lunch on your own, rejoin the group and head north to the hills of the Valpolicella wine region to meet winemaker Giuseppe Lonardi, one of the best producers of Amarone in Italy. Tour the winery before sampling a few varietals, including Giuseppe's special blend, Privilegia.
After the tasting, take a short stroll through the bucolic neighborhood to a tiny bistro to meet Chef Vittorio. Gather around his kitchen work table while he demonstrates how to create slow-cooked, Amarone-infused risotto. As it's stirred over a wood fire, observe the finer points of making polenta, learn about other seasonal and regional fare, and then enjoy a freshly prepared dinner, featuring the decadent Amarone risotto.
Overnight: Borgo San Donino (B,D)
Day 5: Vallagarina / Malcesine
Wednesday, October 18, 2023
Visit the Tower of San Martino della Battaglia—a monument positioned on the site of an important historic battle. Traverse the winding incline to reach the top for a 360-degree view of the vast countryside stretching to the waters of Lago di Garda.
Afterward, head north to the de Tarczal estate in the mountainous Trentino region of Northern Italy. Renowned for centuries for the quality and variety of its distinguished grapes, this prestigious, small and family-operated vineyard specializes in classic local varietals. Enjoy a tour of the cellars, wine tasting, and lunch in "la Vineria," featuring the gastronomic products of Trentino.
The leisurely return drive to Selva Capuzza delivers you to the shores of Italy's largest lake, Lago di Garda, in the lively medieval village of Malcesine. Wander the sloping avenues featuring a myriad of boutiques and restaurants up to stately Scaliger Castle to capture the panoramic views over the majestic azure water below.
Overnight: Borgo San Donino (B,L,D)
Day 6: Modena / Mantua
Thursday, October 19, 2023
This morning, set out for Modena to meet Simone Caselli, an award-winning producer of Aceto Balsamico Tradizionale di Modena. During a private tour, visit the old attic where the Caselli family story of creating balsamic vinegars began and still remains a part of the continuing tradition today. Then retire to the tasting room to compare the characteristics of three aged balsamic vinegars followed by lunch, including an array of homemade regional dishes featuring various Aceto vinegars.
Afterward, stop at beautiful Mantua for an inside visit to Palazzo Ducale, the former noble residence of the Gonzaga family. A UNESCO World Heritage site, this building is one of the most important Renaissance monuments in Italy. Peruse the museum, or venture into Mantua's main plaza for a bit of free time before returning to Selva Capuzza.
This evening, enjoy a light dinner at Cascina Capuzza.
Overnight: Borgo San Donino (B,L,D)
Day 7: Roncà / Soave / Sirmione
Friday, October 20, 2023
Today, discover the culinary delights of the Lessinia region, known for its lush pastures, olive groves, and cherry and chestnut orchards. Visit La Casara—a family-run, artisan cheese shop in the Roncà municipality. Enjoy an up-close cheese-making demonstration and venture into the cheese cellar before settling into the tasting room for a sampling of La Casara's savory creations.
Departing Roncà, make a short photography stop in the walled, medieval town of Soave. View its famous castle, and learn about the town's important regional position and historic relationship with wine.
Continue to Sirmione—an idyllic resort town at the tip of a peninsula in Lago di Garda. Spend free time roaming the enlivened streets, sip a cold aperitivo at a waterfront café, or peruse the plentiful boutiques for souvenir shopping.
Tonight, gather with fellow travelers for another convivial dinner at Cascina Capuzza accompanied by live music.
Overnight: Borgo San Donino (B,L,D)
Day 8: Sulzano / Lago d'Iseo / Franciacorta
Saturday, October 21, 2023
After breakfast, depart Sulzano by boat to see the hamlets and villages alongside picturesque Lago d'Iseo, a small lake situated within a rich agricultural area of vineyards, olive groves, fewer crowds, and friendly locals. Exceptional rural beauty, historic walking trails, and unique experiences await! Tour the main island, Montisola, and stroll the charming town of Perschiera Maraglio with its fabulous views. Stop at Siviano to learn more of the culture at the fishing-net museum. See the owners' vast collection of documents, a permanent display of photographs, and other objects that pay tribute to their roots.
Next, wine lovers will delight in visiting Italy's Franciacorta—a name referring to the territory, the production method, and the vino. Franciacorta is Italy's answer to champagne, and it was the first sparkling wine here to receive the highest designation of quality (DOCG) distinction. This bucolic region with sloping hills overlooks the shores of Lago d'Iseo and serves as our ambiance for a guided cellar tour, wine tasting, and lunch. Delight your palate and intellect at Al Rocol, where guests make a stop in the cellar. Sample and learn about wines produced with grapes grown in terraced vineyards using the Guyot and other systems. The "Franciacorta DOCG" and the "Terre di Franciacorta Rosso" have won silver and bronze medals in international competition.
Later, dinner at Cascina Capuzza presents an opportunity to dine once more with fellow travelers and toast a delightful adventure together in northern Italy.
Overnight: Borgo San Donino (B,L,D)
Day 9: Verona / Depart Verona for U.S.
Sunday, October 22, 2023
Today, guests departing during the suggested times will take a complimentary transfer to the airport for flights home. Guests continuing on the optional post-tour will depart by train to Venice. (B)
B = Breakfast, L = Lunch, D = Dinner
(Itinerary subject to change.)