For questions or to reserve:

tju.orbridge.com


(866) 639-0079

Main Program: October 24, 2023 – October 31, 2023
Pre-Tour: October 21, 2023 — October 24, 2023
Post-Tour: October 31, 2023 — November 05, 2023
The Galapagos Islands – Western Itinerary

Feel the thrill of encountering the flora and fauna that famously inspired Darwin—and in his footsteps, generations of nature lovers. Undiscovered by Europeans until the 16th century, the Galapagos Islands hold a central position in modern scientific and evolutionary history. In a place where human presence is relatively minimal, take the opportunity to observe and photograph these remarkable species up close—either sitting quietly to watch blue-footed boobies or snorkeling with inquisitive and playful sea lions.
NOTE: This program information is current as of 10/1/2023.
Program Highlights
– During a full day tour of Quito, marvel at the gold leaf interior of the Jesuit church of la Compañía—a fine example of the mix of European influences and indigenous art called the Baroque school of Quito; enjoy a lunch of Ecuadorian specialties; and view a unique collection of pre-Columbian art.
– Observe with remarkable proximity the diversity of endemic species such as the Nazca and blue-footed boobies; giant tortoises; marine and land iguanas; the flightless Galapagos cormorant; and the famous Darwin's finches.
– Discover the myriad of aquatic wildlife in the clear waters of the world's second largest marine reserve.
– Snorkel with sea lions, colorful tropical fish, and sea turtles—or observe them through a glass-bottom boat.
– Explore secluded inlets and stroll sweeping white sand beaches such as Punta Espinoza, where flightless cormorants nest nearby and sea lions, Galapagos penguins, and turtles can be seen frolicking in a fine display of multi-species tolerance in the nearby lagoon.
– Visit dramatic and historic places, including the Charles Darwin Research Station—the iconic site of Galapagos National Park research and conservation efforts—most notable for its captive breeding program for the Galapagos Giant Tortoise; and Sullivan Bay on Santiago Island, one of the first sites visited by Charles Darwin featuring a "lunar landscape" of lava fields.
What's Included
2 nights at the 5-star Casa Gangotena hotel in Quito (or similar) prior to embarkation
4 nights aboard the Isabela II, with exploration by panga boats and glass-bottom boats, naturalist-led hikes and excursions, and evening lectures
1 night at Wyndham Quito Airport Hotel (or similiar) after disembarkation
A welcome reception, plus 7 breakfasts, 6 lunches, and 4 dinners
A city tour of Quito
All excursions and presentations
Complimentary use of kayaks, paddle boards, shorty wetsuits, and snorkeling equipment
Galapagos National Park entrance fee and transit card
Internal airfare (from Quito to the islands on Day 3, and return to Quito on Day 7)
Gratuities to local guides, hotel porters, and drivers in Quito
Airport transfers for guests arriving and departing during the suggested times
Itinerary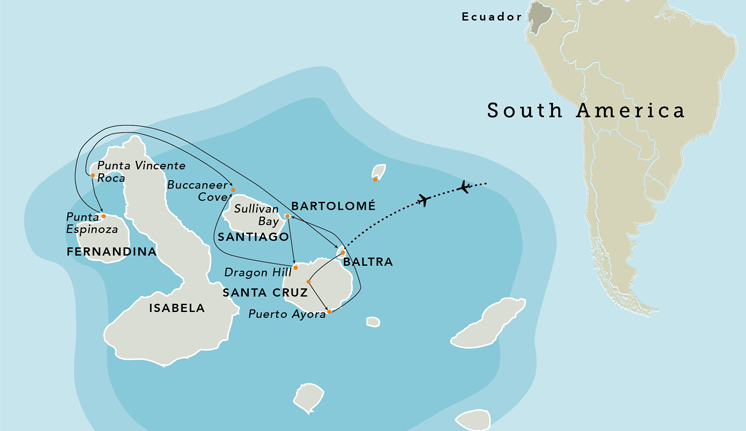 Day 1: En Route from U.S. / Arrive in Quito, Ecuador
Tuesday, October 24, 2023
After an evening arrival in Quito, transfer to your award-winning hotel for a comfortable night's sleep.
Overnight: Casa Gangotena – Quito
Day 2: Quito
Wednesday, October 25, 2023
Head out for a full-day, guided tour of historic Old Town. A local expert will take you through a Quito neighborhood, where you'll visit with local artisans, including shopkeepers, hat makers, and confectioners. Explore the San Francisco Market—one of the oldest in the capital. There, learn about unique Ecuadorian fruits and vegetables, as well as local culinary traditions. Stop by a chocolatier to learn how cacao beans are processed, and taste the finest chocolates of Ecuador!
Next, head north toward the political heart of the city. Following a brief narrative, stroll to the Jesuit church of la Compañía to admire its stunning gold-leaf interior. Relax and enjoy a lunch that highlights the unique and diverse flavors of this culturally rich South American country.
In the afternoon, head to the Casa del Alabado Archaeological Museum inside a restored 17th-century colonial mansion to view its collection of pre-Columbian art. This evening, gather with traveling companions for a welcome reception and prepare for your upcoming adventure.
Overnight: Casa Gangotena – Quito (B,L,R)
Day 3: Quito / Flight to Baltra / Santa Cruz: Highlands / Puerto Ayora – Embarkation
Thursday, October 26, 2023
Arrive by plane to Baltra Airport and transfer to the Itabaca Channel to ferry across to Santa Cruz Island. After a short, scenic drive across Santa Cruz Island, arrive in the Highlands to enjoy lunch.
Later, visit the Charles Darwin Research Station and the Giant Tortoise Breeding Center to gain an understanding of the extensive conservation efforts that have gone into maintaining and improving the environment and biodiversity in this remarkable archipelago. See the Galapagos giant tortoise up close and learn about the various stages of tortoise care and development, including a visit to the baby tortoise house.
Take a late afternoon stroll along the main street of Puerto Ayora before embarking on Isabela II.
Join the captain this evening for a cocktail and briefing on the exciting activities to come.
Overnight: Isabela II (B,L,D)
Day 4: Bartolomé / Santiago: Sullivan Bay
Friday, October 27, 2023
One of today's highlights includes a panoramic view of the Galapagos from a special vantage point—an overlook atop Bartolomé Island. On a pristine day, more than 10 islands can be seen from this viewpoint. After the morning hike, examine the environment by snorkeling or by glass-bottom boat.
Return to the beach to board a panga for a cruise around Pinnacle Rock, formed by an eroded tuff-stone cone—light limestone created by the accumulation of small volcanic elements. Pinnacle Rock is home for a small colony of flightless Galapagos penguins that share the area with sea lions and other marine birds.
After lunch, explore Sullivan Bay on the east coast of Santiago Island, featuring a white coral sand beach that's ideal for swimming. This location has some of the best snorkeling within the archipelago. See and feel the volcanic origin of Galapagos by traversing the walking trail across a lava field that flowed here in 1897.
Tonight after dinner (conditions permitting), look up and experience the enchantment of stargazing.
Overnight: Isabela II (B,L,D)
Day 5: Santa Cruz: Dragon Hill / Santiago: Buccaneer Cove
Saturday, October 28, 2023
The island of Santa Cruz is the only one with six different vegetation zones. Pit craters, Scalesia forest, cacti, and ferns are found here. After breakfast, set off on a walk, passing a lagoon frequented by shorebirds, ducks, and American flamingos. Continuing inland, the trail offers a beautiful view of the bay and the western islands of the archipelago, as well as the chance of observing land iguanas. Afterward, snorkel from the shore in hopes of spotting rays and green turtles.
Later today, explore the coastline along the impressive cliffs of Buccaneer Cove, learning about the area's distant and recent history. Buccaneer Cove was used extensively by pirates, privateers, and whalers to set anchor and head ashore. It is home to a large number of marine birds, sea lions, and intertidal organisms. The geology is fascinating, with layers of compacted tuff volcanic material that, due to wave and wind action, has eroded into different forms and shapes. Enjoy fantastic natural formations, such as the "Elephant Rock," and an impressive natural cave.
Relish the available opportunities for snorkeling or relaxing with panga or glass-bottom boat rides.
Overnight: Isabela II (B,L,D)
Day 6: Isabela: Punta Vicente Roca / Fernandina: Punta Espinoza
Sunday, October 29, 2023
Explore the captivating coast of Isabela Island by watercraft, seeking abundant wildlife, including colonies of Galapagos fur seals, the nesting sites of Nazca boobies, flightless cormorants, penguins, and marine iguanas. Depending on conditions, there may be a chance to snorkel along the cliffs, hopefully in the company of green sea turtles. Back on board, navigate along the Bolivar Channel, where nutrient-rich upwellings provide fertile fishing grounds for cetaceans.
Then visit the island of Fernandina, the youngest island of the archipelago and arguably one of the most pristine ecosystems on the planet. Punta Espinoza boasts an amazing combination of barren landscapes and abundant wildlife, all dominated by the lofty volcano at the heart of the island. Highlights to spot include hawks, penguins, huge numbers of marine iguanas, and the famous flightless cormorant, with its beguiling blue eyes.
Overnight: Isabela II (B,L,D)
Day 7: Baltra – Disembarkation / Flight to Quito, Ecuador
Monday, October 30, 2023
Bid a fond adiós to the Isabela II crew this morning prior to departing Baltra for Quito, where guests not continuing on the Machu Picchu post-tour will spend the final night.
NOTE: Guests continuing on the Machu Picchu post-tour will depart the main program from Quito on an evening flight to Lima, Peru.
Overnight: Wyndham Quito Airport Hotel (B,L)
Day 8: Quito / Depart for U.S.
Tuesday, October 31, 2023
After breakfast, guests departing during the suggested times will take a complimentary transfer to the airport for flights home. (B)
B = Breakfast, L = Lunch, D = Dinner, R = Reception
(Itinerary subject to change.)