For questions or to reserve:

hsutx.orbridge.com


866-639-0079

Main Program: June 09, 2024 – June 14, 2024
Discover Denali National Park

Journey into the scenic wilds of America's most northern state, through Alaska's rugged forests and wildlife. Your destination: the magnificent, six-million acre Denali National Park and Reserve. Familiarize yourself with the park, walking its trails with a guide, and choose from optional excursions to personalize your adventure. Keep binoculars close at hand: this dazzling and vast wilderness is home to Dall sheep, eagles, wolves, migrating caribou, and grizzly bears—and catching sight of them is a thrill not soon forgotten. A highlight of this adventure includes traveling aboard the historic Alaska Railroad with superior viewing from your upgraded glass-dome seat.
NOTE: This program information is current as of 10/1/2023.
Program Highlights
– Be on the lookout for vast wildlife including moose, Dall sheep, eagles, wolves, migrating caribou, and grizzly bears.
– Familiarize yourself with Denali National Park, walking its trails with naturalists nearby.
– Enjoy a special dinner including a presentation by a Murie Science & Learning Center educator.
– Listen to an Alaskan homesteader's tale of summiting Denali.
– Admire the rugged forests and wildlife with superior viewing from your upgraded glass dome seat aboard your reserved rail car on the Alaska Railroad.
What's Included
1 night accommodation at Pike's Waterfront Lodge in Fairbanks, 3 nights accommodations at Grande Denali Lodge, and 1 night accommodation at Hotel Captain Cook in Anchorage
5 breakfasts, 2 lunches, 2 dinners, and 1 reception
Rail transport to/from Denali National Park
Hotel courtesy shuttle between Grande Denali Lodge, the Denali Park Visitor Center, town, and the rail depot
A full-day wilderness tour into Denali National Park (including a box lunch) with your Orbridge Expedition Leader and a Murie Science and Learning Center naturalist guide
A lively dinner event with a special presentation from a Murie Science and Learning Center educator, plus an engaging discussion with Jimmie Hendricks, a colorful local who will share his experiences of homesteading and eventual summiting of Denali
Deluxe motor coach transport to Talkeetna and Anchorage
Anchorage Museum Tour and visit to the town of Talkeetna
Transport aboard the distinguished Alaska Railroad with reserved seating in the upper-level glass-dome car, priority seating in the dining room and two complimentary alcoholic and unlimited non-alcoholic beverages
Services of an Orbridge Expedition Leader
Gratuities for Orbridge Expedition Leader, local guides, drivers, porters, housekeeping, and wait staff for included meals
Airport transfers for guests arriving and departing during the suggested times
Itinerary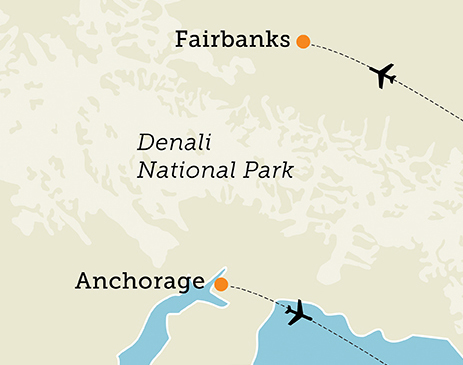 Day 1: Arrive in Fairbanks, Alaska
Sunday, June 9, 2024
Welcome to Fairbanks! The city is also known as "The Golden Heart of Alaska," a reference to the discovery of gold in 1902 and its location in Alaska's interior. Meet your Orbridge Expedition Leader and traveling companions at a welcome dinner, and prepare for your upcoming Denali activities and excursions.
Overnight: Pike's Waterfront Lodge (D)
Day 2: Fairbanks / Alaska Railroad / Denali National Park
Monday, June 10, 2024
Along with your Orbridge Expedition Leader, board the train to Denali National Park on the Denali Star train route, one of the most scenic stretches of the world-famous Alaska Railroad. It cuts through the northern boreal forests of interior Alaska where gold miners came to seek their fortune. Enjoy a rich panoply of views of America's northernmost frontier as you travel in the upgraded glass-dome GoldStar train car.
Delight in breakfast aboard the train before arriving in Denali. Upon arriving at the park, take a short walk with your Expedition Leader to the Denali National Park Visitor Center for a brief orientation. View the exhibits or sign up for ranger-led talks, hikes, and other activities available during your stay in Denali. Afterward, take the courtesy shuttle to the Grande Denali Lodge. This evening, enjoy a lively dinner where you'll explore fun and unique features of the park with a presenter from the Murie Science and Learning Center.
Overnight: Grande Denali Lodge (B,D)
You may purchase the following optional excursions in advance from our Guest Services team to enjoy during your free time in Denali. We recommend you reserve early for best availability as space is limited.
• DogGoneIt Dog Sled Tour: An intimate visit to an Alaskan frontier home to learn about the lives of the world's greatest athletes, sled dogs, and racing the Iditarod.
• Denali Glacier Landing Flight: A 100-minute plane tour of Denali to view the continent's deepest gorge, glaciers, and surrounding peaks and valleys. Also land on one of Denali's pristine glaciers.
• Arctic Circle Flight: Enjoy expansive views of the Brooks Range, Yukon River, and Trans-Alaska Pipeline on this seven-hour air-and-land tour. After your flight crosses the Arctic Circle, land in the Yukon-Koyakuk region and walk with a local resident guide as you tour one of only a few year-round, lived-in communities located this far north.
Optional DogGoneIt Dog Sled Tour: $65/person and $55 per youth 12 and under
Optional Denali Glacier Landing Flight: $685/person and $635 per youth 10 and under
Optional Arctic Circle Flight Tour: $565/person and not recommended for youth under 10
Normal Orbridge cancellation policies apply whereby optional excursions are non-refundable within 90 days of departure. Not all excursions listed may be available. Availability is subject to sufficient participation and weather conditions. We recommend you reserve early for best availability as space is limited. For flight excursions, weight and minimum age requirements apply. Individual dressed weight and birthdate must be provided at time of booking.

Day 3: Denali National Park Wilderness Excursion
Tuesday, June 11, 2024
Today, travel along the Denali National Park Road on a naturalist-guided, back-country adventure for incredible scenery and some of the best opportunities to view the majestic Mount Denali. This tour includes walks and in-field discussions inside the park. Be sure to have your binoculars ready as you watch for wildlife. Enjoy a box lunch in this special setting.
This evening is at your leisure.
Overnight: Grande Denali Lodge (B,L)
Day 4: Denali National Park
Wednesday, June 12, 2024
After breakfast, participate in one of the pre-purchased optional excursions or enjoy free time to explore Denali. Take advantage of the self-guided hiking trails or informative ranger-led talks and activities offered in the park while marveling at the scenery.
Later, reconvene for wine and dessert as you listen to Alaskan homesteader, Jimmie Hendricks, as he relives his journey and lifelong dream to explore Alaska and make it his home. Be amazed by his years of training, hard work, determination, and eventual summiting of North America's tallest peak.
Overnight: Grande Denali Lodge (B,R)
Day 5: Denali National Park / Talkeetna / Anchorage
Thursday, June 13, 2024
After an early breakfast, continue your journey to Anchorage by motor coach.
At 2,363 feet, Broad Pass is the highest point and a migratory route for caribou. Arriving in Talkeetna, embrace the panoramic views of Denali, North America's tallest peak (weather permitting). Enjoy free time to explore the Talkeetna Historical Society Museum and the Walter Harper Talkeetna Ranger Station to learn about mountaineering operations, the scenic Talkeetna river trail, and various shops and cafes in town.
Continuing the journey, view the serpentine banks of the Talkeetna, Susitna, Knik, and Matanuska Rivers. These provide additional stunning scenery on the way to the Anchorage Museum, Alaska's largest museum. Here, learn about Alaska's history, native cultures, and many other facets of the Last Frontier. This evening, explore downtown Anchorage's many fine eateries and shops, and relax in your luxury hotel.
Overnight: Hotel Captain Cook (B,L)
Day 6: Depart Anchorage
Friday, June 14, 2024
Enjoy breakfast at the hotel before departing at your leisure on the last day of the program. (B)
R = Reception, B = Breakfast, L = Lunch, D = Dinner
(Itinerary subject to change.)