For questions or to reserve:

(866) 639-0079

Death Valley, Yosemite and the Great Parks of California

Survey the dramatic landscapes of four of California's national parks as nature testifies to its size, beauty, and diversity. Discover the vast desert region of Death Valley National Park—home to both the lowest point in North America at 282 feet below sea level and the world's highest recorded temperature at 134 degrees Fahrenheit. Admire the iconic waterfalls, deep valleys, grand meadows, and extensive wilderness of Yosemite. And marvel at the celebrated groves of sequoia giants at Sequoia and Kings Canyon National Parks.
NOTE: This program information is current as of 6/7/2023.
Program Highlights
Experience the diverse wonders of four West Coast national parks accompanied by an Orbridge Expedition Leader.
Observe terrestrial spectacles in Death Valley National Park—known for its extremes and for being the largest national park south of Alaska.
Visit Badwater Basin, an otherworldly landscape of crinkly salt flats, and enjoy pristine views of thousands of stars in the nighttime sky.
Honor and preserve the memory of thousands of Japanese Americans who faced internment during World War II at Manzanar National Historic Site.
Delight in exploration of Yosemite National Park, a varied landscape supporting more than 400 species of amphibians, reptiles, birds, and mammals.
Spend time at Sequoia and Kings Canyon National Parks that are teeming with endless natural features, including General Sherman—a giant sequoia tree soaring 275 feet into the blue Sierra sky.
What's included: 7 nights accommodations in inspiring hotels and lodges; 7 breakfasts and 4 dinners, plus special welcome reception; full guiding services of an Orbridge Expedition Leader as well as local expert guides; all activities as described in the 8-day itinerary; admission and park fees; private deluxe motor coach with air conditioning and comfortable seating; luggage porterage; gratuities to Orbridge Expedition Leader, local guides, drivers, porters, and wait staff for included meals; and airport transfers for guests arriving and departing during the suggested times.
Itinerary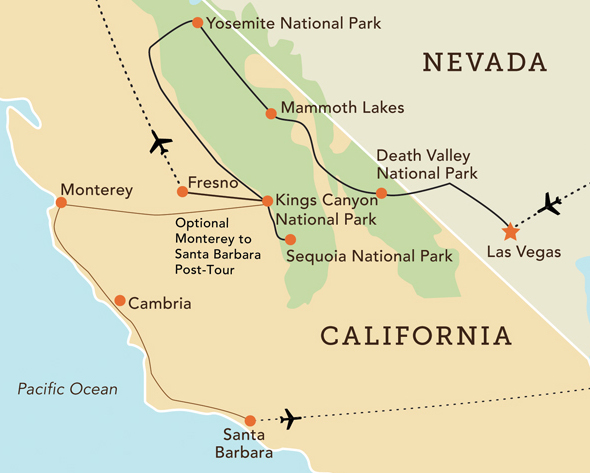 Day 1: Arrive in Las Vegas, NV
Upon arriving in Las Vegas, meet with your fellow travel companions and Orbridge Expedition Leader. At the hotel, settle in and enjoy a welcome reception with the group.
Overnight: The Westin Las Vegas Hotel and Spa (R)
Day 2: Las Vegas / Death Valley National Park
Today head for Death Valley, famous for being the hottest, driest, and lowest national park. Many visitors expect to encounter a completely arid, shadeless expanse devoid of life. But this park of more than three million acres is a realm of surprise and contrast. During a full day of sightseeing, discover sculptural canyons, mountain-sized sand dunes, and abundant wildlife. From the snow that frosts the park's towering peaks to its lush wildflower meadows, there is much to see and explore in this beautiful, but challenging, landscape.
Head 282 feet below sea level to the surreal terrain of Badwater Basin, the lowest place in North America. Rain and minerals dissolved from rocks drain to this lower elevation, and as the water evaporates, minerals concentrate until only the salts remain. A short boardwalk leads you out to the salt flats and to Badwater Pool, a small body of water fed by a spring with aquatic insects and the Badwater snail. Visiting Badwater Basin provides a unique experience and a landscape that appears to stretch on forever.
Later, gather for dinner.
Overnight: The Inn at Death Valley (B,D)
Day 3: Death Valley National Park
Delight in additional geologic and scenic treasures of Death Valley National Park. This may include the most popular scenic drive in the park—a nine-mile paved road through eroded, colorful desert hills. The rainbow hills of Artists Drive were formed by volcanic deposits of different compositions.
Additional potential highlights are discovering the immense area of rock salt eroded by wind and rain into jagged spires at Devils Golf Course, or taking in the famous view known as Zabriskie Point. Other options abound, including marveling at the Mesquite Flat Sand Dunes, the largest dune field in the park. Here, polygon-cracked clay of an ancient lakebed forms the floor and mesquite trees have created large hummocks that provide stable habitats for wildlife. You might also step back in time at Keane Wonder Mine, one of the best examples of a historical gold mining operation in the park.
Overnight: The Inn at Death Valley (B,D)
Day 4: Death Valley National Park / Mammoth Lakes
Depart Death Valley for a scenic drive to Mammoth Lakes, a charming town in California's Sierra Nevada mountains. On the way, see the Manzanar National Historic Site to learn about the experience of more than 10,000 Japanese Americans who spent all or part of World War II there. Hear their stories and learn about the legacy of an important chapter in America's history.
Mammoth Lakes is a gateway to majestic seasonal landforms and attractions. Mono Lake Tufa State Natural Reserve was established to preserve the spectacular "tufa towers." These are calcium-carbonate spires and knobs formed by the interaction of freshwater springs and alkaline lake water. The tufa formations are notable for their unusual shapes and abundance. Extensively studied by scientists, they have aided in understanding the climate history of this region. The reserve also protects the lake surface, wetlands, and other sensitive habitat for the millions of birds that feed and rest at Mono Lake each year.
Overnight: The Village Lodge at Mammoth (B)
Day 5: Mammoth Lakes / Yosemite National Park
Today, exit Mammoth Lakes and head towards the waterfalls, granite monoliths, and ancient sequoias of Yosemite National Park. Along the way, drive over the spectacular Tioga Pass (weather conditions permitting). This eastern access to Yosemite provides photo opportunities as the park's dramatic domes and drop-offs are highlighted.
Overnight: Tenaya Lodge at Yosemite (B,D)
Day 6: Yosemite National Park
Within Yosemite's nearly 1,200 square miles are wild meadows, rivers, lakes, and some of the world's most renowned rock formations. Did you know this diverse landscape supports more than 400 species of wildlife? Look around, and you'll likely spy one of the park's many amphibians, reptiles, birds, or mammals. A true treat would be to spot the rare Sierra Nevada red fox, seen for the first time in nearly a century on a wildlife camera in 2014.
Relish an entire day to soak in this park's natural beauty. Depending on the seasonal operation schedule, enjoy the open-air tram tour of the valley floor if possible. Led by park rangers and Yosemite hospitality naturalists, you'll learn about the history, flora, and fauna throughout the park.
Lunch and afternoon activities are open for your leisure to enjoy. Work off the midday meal with a local hike, or take it easy with a complimentary program offered by the National Park Service.
Tonight return to the hotel to relax and revisit your memories of the day.
Overnight: Tenaya Lodge at Yosemite (B)
Day 7: Yosemite National Park / Sequoia and Kings Canyon National Parks
Today, adventure awaits in Sequoia and Kings Canyon National Parks. These parks, which lie side by side, further testify to nature's size, beauty, and diversity. The parks' long list of superlatives includes Mount Whitney, the highest point in the contiguous United States, and the Kings River Canyon, one of the deepest in North America.
Sequoia National Park was established in 1890 to protect the General Grant Grove of giant sequoias. Kings Canyon National Park, established in 1940, is a wide glacial valley with green meadows, waterfalls, tall cliffs, and meandering rivers set against the high peaks of the Sierra Crest in the distance.
Explore the trails, scenery, and Visitor Center to take in the wonder. In Sequoia National Park, the Giant Forest harbors the world's largest collection of sequoia trees. The biggest of them all, the General Sherman Tree, measures more than 100 feet around the base of its massive trunk. Other trees are taller or wider, but none has the combined weight and width of this glorious one. How big is big? Consider this: every year it adds enough wood to make another 60-foot tree. Scientists have speculated that it may be more than 2,000 years old.
Linger in these outstanding natural preserves and admire their amazing features. The two parks protect numerous karst streams and some of the best alpine karst topography in the United States. The lower elevations are home to a variety of wildlife, including bobcats, foxes, ground squirrels, mule deer, rattlesnakes, and reclusive mountain lions. This California Foothills ecosystem is the only one protected by the National Park Service.
This evening, clear skies permitting, you may elect to stargaze on your own, observing the waning light beneath the Southern Sierra Nevada mountains.
Tonight, join fellow travel companions for a special farewell dinner.
Overnight: Tenaya Lodge at Yosemite (B,D)
Day 8: Fresno / Depart Fresno
After breakfast, the group departs together for Fresno Yosemite International Airport for flights home. (B)
B = Breakfast, L = Lunch, D = Dinner, R = Reception
(Itinerary subject to change.)