For questions or to reserve:

(866) 639-0079

Tanzania Wildlife Safari

How do you measure a travel destination that seems to have no bounds? Tanzania, the largest country in East Africa, also has more animals per square mile of land than anywhere in the world. It's home to the famed Mount Kilimanjaro—the tallest mountain in Africa, as well as the continent's largest lake—Lake Victoria. It's a place for which superlatives in language were created—earning each widened eye, each dropped jaw, and each excited heartbeat.

Come experience a once-in-a-lifetime opportunity to explore the grandeur that is Tanzania, featuring access to a number of important national parks and nature reserves, abundant wildlife, the guidance of an Orbridge Expedition Leader, welcoming locals, and luxurious accommodations. Its true measure will be in the connection you feel, the memories you make, and the space this adventure holds forever in your heart.
NOTE: This program information is current as of 10/1/2023.
Program Highlights
– Explore some of the most important parks and reserves in East Africa, including the legendary Serengeti—host at different times of the year to the Great Migration, the cyclical journey of 1.6 million herbivores on their quest for survival.
– Participate in up to 12 game drives accompanied by an Orbridge Expedition Leader and expert naturalist guides aboard safari-outfitted Land Cruisers.
– Spend a full day at Ngorongoro Crater—home to populations of lions, leopards, black rhinos, hyenas, wildebeests, buffaloes, elephants, and zebras.
– Reserve an optional hot-air balloon safari over the Serengeti at sunrise, including a champagne breakfast and game drive (additional fee).
What's Included
9 nights deluxe accommodations (each carefully selected to emphasize wildlife viewing and comfort) plus a day room on departure day
9 breakfasts, 9 lunches, and 8 dinners (including a special farewell Serengeti bush dinner)
Expert naturalist guides throughout, including an Orbridge Expedition Leader
Daily game drives in custom 4x4 Land Cruisers with roof hatch access and guaranteed window seating
Coffee and tea with meals and filtered water while on game drives
Internal flight from the Serengeti to Arusha
All main program gratuities
All taxes, service charges, and park fees
Temporary membership in Flying Doctors Service
Airport transfers for guests arriving and departing on the suggested flights
Itinerary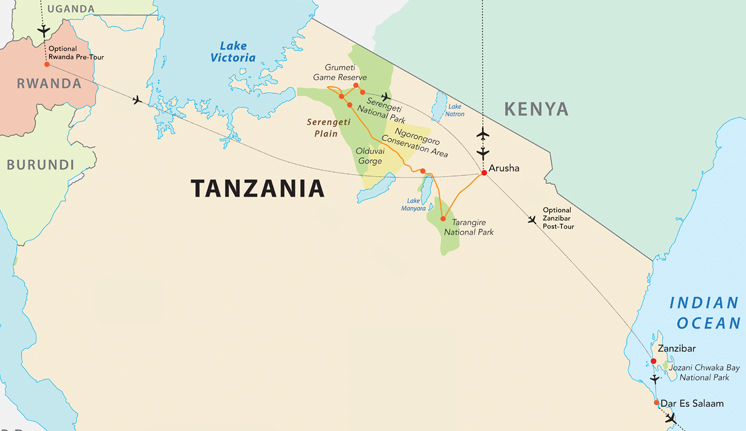 Note: Locations selected for this safari promise excellent viewing of wildlife, however, spotting specific wildlife cannot be guaranteed. Some activities are dependent on weather and seasonal conditions.
Day 1: En Route from U.S.

Day 2: Arrive in Arusha, Tanzania
After an evening arrival to the Kilimanjaro Airport, you will be met by an Orbridge representative who will assist with the transfer to your hotel.
Overnight: Arusha Serena Hotel, Resort & Spa
Days 3-4: Tarangire National Park
- Following breakfast and a welcome briefing by your Orbridge Expedition Leader, depart Arusha to enjoy two days exploring Tarangire National Park. Morning and afternoon game drives provide your first look at Africa's natural beauty, power, and wonder. This seasonal park has the second highest concentration of wildlife (after the Serengeti), including diverse habitats such as dry open woodlands, thorny Acacia thickets, rolling hills, rocky outcrops, extensive swamps, the Tarangire River, and many huge, iconic Baobab trees.
Tarangire, known for elephants, reportedly has the largest elephant concentration in the world during the dry season. Witness in sheer awe the commanding presence of these majestic creatures in close proximity as they roam the surrounding landscape.

In addition, the park boasts hundreds of bird species—the highest of any Tanzanian park. Notable common birds include the ashy starling, red-and-yellow barbet, red-bellied parrot, speckle-fronted weaver, little bee-eater, and tawny eagle. Bird lovers should keep an eye open for flocks of the dazzlingly colorful yellow-collared lovebird and the equally striking lilac-breasted roller—with its greenish head, lilac throat and breast, blue belly, and bright wing feathers.
This ecosystem is also home to lions, as well as elusive cheetahs and leopards, all sustained by herds of zebras, wildebeest, giraffes, and more.
Between thrilling experiences of wildlife viewing, savor delightful moments to reflect, including a welcome cocktail, a bush lunch inside the park, and educational presentations by the camp fire.
Overnight: Tarangire Sopa Lodge (B,L,D daily)
Day 5: Ngorongoro Conservation Area
Today's journey includes a game drive en route to the Ngorongoro Conservation Area, a UNESCO World Heritage site.
Next, drive to Gibb's Farm for a guided farm walk and lunch. This award-winning sanctuary, established in the early 1900s as a coffee plantation, offers a welcome respite for travelers. Replenish with inspired organic cuisine, fresh from the farm's gardens, bakery, and dairy, and enjoy the beauty and tradition of the surroundings. An immersive experience, Gibb's Farm provides opportunities for interested guests to partake in a variety of activities, including the daily vegetable harvest, cow milking, pig feeding, and egg collecting.
Later, continue to tonight's lodge for dinner and an evening at leisure.
Overnight: Ngorongoro Serena Safari Lodge (B,L,D)
Day 6: Ngorongoro Crater
This morning, descend some 2,000 feet to the floor of the Ngorongoro Crater, the largest inactive and intact volcanic caldera in the world. The crater was thought to have developed millions of years ago when the cone of a large active volcano collapsed after eruption. It is considered one of the Seven Natural Wonders of Africa, and its unique ecosystem is often called a "Garden of Eden" due to the wide range and ever-present abundance of wildlife attracted by the year-round water supply on the crater floor.

A thrilling full-day game drive provides ample wildlife-viewing opportunities, including, but not limited to: buffaloes, zebras, warthogs, wildebeests, Grant's and Thomson's gazelles, leopards, the densest population of lions in the world, and the best place in East Africa to spot black rhinoceroses.
Overnight: Ngorongoro Serena Safari Lodge (B,L,D)
Days 7-8: Olduvai Gorge / Serengeti National Park - Seronera Valley
- Navigate around the crater's rim, descending to Olduvai Gorge, one of the most important prehistoric archaeological sites on Earth. It was here in the 1950s that Louis and Mary Leakey first uncovered the fossilized teeth and skull of one of man's earliest ancestors.
After an interpretive presentation, continue to the Serengeti—Tanzania's oldest and most popular national park—to experience its vastness and beauty. Spanning 12,000 square miles, this ecosystem's name is appropriately derived from the Maasai language meaning "endless plains."
Daily morning and afternoon game drives reveal the best of East Africa's natural beauty as we traverse the savanna's golden fields underneath an endless expanse of blue sky. Experience moments of tranquility and pulse-racing action during breathtaking opportunities to observe life in the wild.
Overnight: Serengeti Serena Safari Lodge (B,L,D daily)
While in Tanzania, you can opt to take a once-in-a-lifetime hot air balloon safari. Guests choosing to reserve this excursion will enjoy a dawn ascent over the southern Serengeti. Experience incredible birds-eye views over the wildlife and vast landscape. Afterward, enjoy a champagne breakfast and a game drive before rejoining the group. (Note: This excursion must be purchased in advance to guarantee availability and is non-refundable inside 90 days to departure.)
Days 9-10: Western Serengeti / Grumeti
- Traveling west beyond the Seronera Valley, enter the western corridor of the Serengeti and the Grumeti River region. This relatively narrow corridor—made up of open savanna, woodlands, and floodplains—follows the path of the crocodile-infested Grumeti River all the way to Lake Victoria. It's home to abundant wildlife, including rare Colobus monkeys.

Daily morning and afternoon game drives afford plenty of opportunities to observe, explore, and learn about these reserves and their diversity of bird and mammal species.

Bid a fond farewell to the sights, sounds and magic of the Serengeti with a memorable bush dinner.
Overnight: Mbalageti Serengeti Tented Chalets (B,L,D daily)
Day 11: Serengeti / Flight to Arusha / Depart for U.S.
From Grumeti, take the short, scenic flight back to Arusha. On arrival, enjoy lunch and finish any last-minute shopping for woodcarvings or art at the Cultural Heritage Center. Day rooms at the hotel provide comfort and downtime until your transfer to the airport this evening.
Day Room: Arusha Serena Hotel, Resort & Spa (B,L)
Day 12: En Route / Arrive in U.S.

B = Breakfast, L = Lunch, D = Dinner
(Itinerary subject to change.)