For questions or to reserve:

(866) 639-0079

Intriguing India

Colorful. Chaotic. Mesmerizing. Exotic. Many words describe India—a vast, diverse country sporting the Himalayas in the north, beaches in the south, tribal territory to the east, and desert to the west. Ever-changing, yet timeless, it is a land of both contrasts and constants, displaying the full spectrum of life. Come experience India's vibrant interior during an in-depth exploration of its history, culture, and wildlife. Larger-than-life palaces, battle-scarred forts, and engaging artisan encounters, along with varied opportunities for sighting flora and fauna, highlight the best elements the subcontinent has to offer and create indelible impressions for defining India your way.
NOTE: This program information is current as of 10/1/2023.
Program Highlights
– Survey the contrasts between Old and New Delhi with sightseeing and an informative talk by an art historian during a guided tour of the capital.
– Travel to Agra to see the colors of sunrise and sunset paint the ivory-white Taj Mahal mausoleum, and visit an artisan workshop to learn about the tradition of its handcrafted marble inlay.
– Discover the 16th-century Agra Fort—a colossal, red sandstone and marble complex of palaces, mosques, and courtyards, which was the main residence of the Mughal emperors.
– Delight in a performance of Raas Leela—an Indian dance traced back to sacred Hindu writings.
– Explore Keoladeo National Park, a UNESCO World Heritage Site, where nearly 400 species of birds have been recorded, including the rare Siberian crane.
– Enjoy authentic cultural-immersion activities, including a cooking demonstration, puppet show, and optional yoga session.
– Watch for chances to spot a Jungle Book of creatures at Ranthambhore National Park: tigers, desert fox, jackal, mongoose, sloth bear and 50 species of butterflies.
– Journey to Jaipur, the "Pink City," renowned for sensational shopping and the architectural treasures of Hawa Mahal, Amer Fort, and the City Palace. Drop into an artisan's workshop to see how gems from all over the world are processed into jewelry.
– In picturesque Udaipur, tour the magnificent City Palace—the largest palace complex in Rajasthan, which includes a museum housing a myriad of historical artifacts and royal memorabilia.
– Experience a once-in-a-lifetime stay at the legendary Taj Lake Palace, an 18th-century royal summer palace constructed from white marble on an island in Lake Pichola.
What's Included
12 nights hotel accommodations and a day room on departure day
13 breakfasts, 9 lunches, and 8 dinners
Full guiding services of an Orbridge Travel Director and expert local guides
Private motor coach transportation
Admission to all locations listed on the itinerary
Internal airfare from Jaipur to Udaipur and from Udaipur to Delhi
Luggage porterage
Gratuities to Orbridge Travel Director, local guides, drivers, porters, and wait staff for included meals
Airport transfers for guests arriving and departing during the suggested times
Itinerary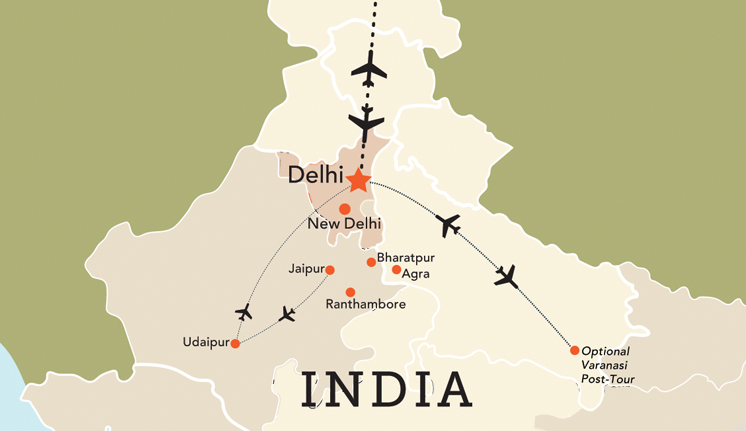 Day 1: En Route from U.S.

Day 2: Arrive in Delhi, India
Welcome to India! Settle into your elegant and modern hotel for a restful evening.
Overnight: The Imperial
Day 3: Old Delhi / New Delhi
Following breakfast and a morning briefing with the Orbridge Travel Director, depart for Old Delhi—a city that pulses with energy and color.
As its name suggests, Old Delhi is the oldest area of Delhi, where traffic from honking cars, rickshaws, and ox carts blends with crowds of merchants and shoppers in a tangle amid narrow alleyways. The sights, sounds, and aromas come alive as brightly colored fruits and vegetables, intriguing street food, and handicrafts intermingle with exhaust, hot oil, spices, and the din of voices from passersby. Stimulating, and sometimes perplexing, this is an experience that won't be forgotten.
Drive past the Red Fort—Delhi's most iconic monument and one of several UNESCO World Heritage Sites. Massive red sandstone walls standing 75-feet high enclose a complex of palaces, gardens, and a mosque. Across the road, and towering over Old Delhi with its tapering minarets and marble domes, stands Jama Masjid—the biggest and perhaps most well-known mosque in India. One of the finest examples of Mughal architecture in India, the Jama Masjid was created by Emperor Shah Jahan, who also commissioned the Taj Mahal. The mosque took more than 5,000 workers toiling six years to complete.
Next visit Chandni Chowk, the main thoroughfare through Old Delhi, and its business nerve center. Experience a rickshaw ride through the streets teeming with life. Pass by mansions from the past and a vast display of goods from today.
This afternoon, venture into New Delhi, a city of wide boulevards bordered by formal parks and attractions, including Rashtrapati Bhawan, the official residence of the president, and India Gate, a 138-foot-tall arch that bears the names of thousands of Indian soldiers who perished in conflicts such as World War I and the Third Afghan War.
Humayun's Tomb, built in the mid-16th century, is also of structural and historical interest. Admire the arched façade of this regal mausoleum with its inlaid bands of white marble and red sandstone, and note how the building follows rules of Islamic geometry, with emphasis placed on the number eight.
Today also features educational enrichment through an informative discussion with an art historian on Delhi's history and culture.
Overnight: The Imperial (B,D)
Day 4: Delhi / Agra
After breakfast this morning, drive approximately four hours to Agra. Nestled on the banks of the Yamuna River, Agra boasts three UNESCO World Heritage Sites, including the iconic Taj Mahal and Agra Fort.
With sunset comes the first glimpse of India's most ornate mausoleum, the Taj Mahal, meaning "crown of palaces" in Urdu and Persian. Built by nearly 20,000 workers and 1,000 elephants over 20 years, this vital stop on any India tour is one of the new Seven Wonders of the World. The Taj Mahal was built by the Mughal emperor Shah Jahan in memory of his wife, Mumtaz Mahal.
Watch as the last natural light illuminates beautiful colors within the structure's marble and showcases the gardens and reflecting pools. See the sunset cast its fiery-orange glow on the Taj's white marble dome and observe in awe what photographs cannot do justice, including the builders' and designers' mastery of perspective. The height and the width of the Taj Mahal are equal, yet an optical illusion makes it appear taller. Delight in the scene's stately scale and ethereal quality of grace and elegance.
Overnight: Jaypee Palace (B,L,D)
Day 5: Agra
With an early start today, sunrise presents an additional enchanting view of the Taj Mahal. Soak in the dawn with cooler temperatures and fewer visitors. Ready your camera to capture the rising sun and mist blanketing the Yamuna River. Stroll through the arches into the grounds to explore in and around the Taj, admiring the calligraphy, the minarets, and the intricate lattice screens of the interior.
Return to the hotel for breakfast. The next adventure: a visit to Agra Fort, a complex of beautiful mosques and palaces that once housed royals who were guarded by crocodiles and tigers. The fort was the main residence of the Mughal emperors in this former capital. In 1657, when Shah Jahan fell ill, his son Aurangzeb declared himself emperor and confined his father to the fort. Discoveries await inside these imposing 70-foot walls, including the walls themselves. Legend has it some were made hollow and then filled with river water to keep occupants cool during the summer.
Today's itinerary is enhanced with a visit to an artisan's workshop that showcases the continuing tradition of handcrafted marble inlay (as seen at the Taj Mahal).
Afterward, experience a memorable and eye-opening visit to Wildlife S.O.S. This organization works to protect Indian wildlife, conserve habitat, and create alternate livelihoods for poachers and other communities depending on wildlife for sustenance. Known for their work rescuing the exploited "dancing bears" of India, Wildlife S.O.S. also helps leopards, elephants, reptiles, and other creatures. Gain a better understanding of issues facing wildlife in India and witness the heartwarming care, dedication and knowledge of a passionate staff committed to the rehabilitation of these animals. Be uplifted by the second chance this vital sanctuary affords.
Overnight: Jaypee Palace (B,L)
Day 6: Agra / Bharatpur
Following breakfast, a drive to Bharatpur takes approximately two hours. Upon arrival, check into accommodations for the evening and have lunch.
This afternoon, walk through a rural village to interact with locals going about their daily lives. Tonight, continue to deepen cultural knowledge by attending a performance of Raas Leela, an indigenous form of Hindu dance theatre. 'Raas' means divine pleasure or dance, and 'leela' implies play or magic in Sanskrit. Watch the performers bring to life the mythology of the Hindu deity Krishna.
Overnight: The Bagh (B,L,D)
Day 7: Bharatpur / Ranthambhore
India boasts a significant amount of varied wildlife, including approximately 12% of all avian species. This morning following breakfast, escape the usual hustle-bustle with a relaxing rickshaw ride and time in Keoladeo National Park, including its bird sanctuary. A true treat of nature, this ecologically diverse paradise—once a former royal game reserve—now protects numerous resident and migratory birds. Enveloped by the sounds of nature, keep binoculars and cameras ready to look for species of cormorant, heron, egret, bittern, stork, ibis, goose, eagle, crane, lapwing, sandpiper, jacana, dove, owl, kingfisher, swallow, shrike, and so many more! Every year rare Siberian cranes migrate here to spend the winter in a warmer climate. The park is also home to an estimated 13 species of snakes, five species of lizards, seven species of turtles, 50 species of fish, 25 species of butterflies and a wide range of mammals, including striped hyena, jackal, fishing cat, wild boar, gerbil, bat, and deer.
Overnight: Ranthambhore Kothi (B,L,D)
Day 8: Ranthambhore
This morning and afternoon, take off on game drives deep into the jungles of southeast Rajasthan at Ranthambhore National Park. Once the royal Maharaja's hunting grounds, the park is India's premier tiger safari destination and home to abundant wildlife. Travel through this sanctuary of dry tropical forests, lakes, streams, rocky terrain, and grassy meadows for chances to spot animals, such as sloth bear, caracal, deer, jackal, striped hyena, crocodile, desert fox, wild boar, hundreds of bird species, mongoose, and—fingers crossed—the elusive tiger. Relics of old temples and forts enhance this uniquely Indian environment.
Also planned today is a visit to Dastkar, a non-profit NGO established in 1981 that works to support traditional Indian craftspeople, many of them women, by promoting local art. Browse the works of these genuine artisans from nearby villages.
Overnight: Ranthambhore Kothi (B,L,D)
Day 9: Ranthambhore / Jaipur
After breakfast, enjoy one final game drive through Ranthambhore before lunch, and then drive to Jaipur, the "Pink City."
With an eclectic mixture of styles, Jaipur was carefully planned and arranged in a pattern of eight squares around a central square in the country's first urban grid. It was later painted terra-cotta pink, the traditional color of welcome, in honor of Prince Albert. All buildings facing the main street within city walls must maintain the pink color. See how this pink joins with a rainbow of other colors from flower-market and vendor stalls. Jaipur is a labyrinth of bazaars, grand palaces, and magnificent forts revealing both a majestic past and some modern-day problems common to India.
Overnight: Jai Mahal Palace (B,L,D)
Day 10: Jaipur
Stop at the pink-sandstone Hawa Mahal, or Palace of the Winds, Jaipur's most famous building. Exhibiting a unique combination of Mughal and Rajput architectural styles, this UNESCO World Heritage attraction in the midst of a bustling street and market is a striking five-story palace with more than 900 windows. The Hawa Mahal was built to allow royal women a way to observe those entering Jaipur yet remain unseen behind latticed screens.
Next, see and explore the majestic and massive Amer (or Amber) Fort. Also recognized by UNESCO World Heritage, it was once the capital of the state of Jaipur. In shades of honey and rose stone, behold the well-preserved monument's beautiful carvings and paintings, expansive courtyards, decorated temples, and ornate halls. The Sheesh Mahal, or Mirror Palace, is one of the fort's most exciting attractions. Adorned with thousands of mirrored tiles and colored glasses on the walls and ceiling, the hall comes to life with reflections.
Overnight: Jai Mahal Palace (B)
Day 11: Jaipur
Today, visit the City Palace, a vast complex that occupies a seventh of the walled city of Jaipur. Within, the palace has been adapted over time and houses several palatial structures, such as Chandra Mahal, Mubarak Mahal, Badal Mahal, and Shri Govind Dev Temple. Near the inner courtyard is Pitam Niwas Chowk, where four glorious gates represent the seasons—the Peacock Gate illustrates autumn, the Lotus Gate celebrates summer, the Green Gate depicts spring, and the Rose Gate portrays winter. Museums at the palace offer a visual feast into yesteryear, with collections of garments, weapons, art, Afghan and Persian carpets, miniature paintings, astronomical manuscripts in Persian and Sanskrit, and more.
Adjacent to the entrance of the City Palace is the observatory, or Jantar Mantar, begun by Jai Singh in 1728. Jai Singh's passion for astronomy was even more notable than his prowress as a warrior. Before construction commenced, Singh sent scholars abroad to study foreign examples of such structures. The Jaipur observatory is the largest and the best-preserved of the five Singh built. See what has captivated the attention of architects and art historians worldwide at this site packed full of interesting instruments. Check the Vrihat Samrat Yantra—the world's largest sundial that reportedly gives the time within an accuracy of two seconds!
Hundreds of years ago when Jaipur was founded, its prince incentivized jewelers to move to the city. Today, Jaipur is known as the "gem capital of the world" and employs a large number of designers and manufacturers. As a special treat, pop into an artisan's workshop to learn how gems from all over the world are crafted into jewelry.
Later walk through the bazaar, where vendors specializing in jewelry, textiles, and crafts conduct business along with sellers of enticing delicacies. Take in the vivid colors and breathe in a potpourri of spices, including tumeric, cinnamon, and cardamom.
Following this fulfilling and active day, relax and be entertained by a traditional puppet show in the gardens of the Raj Palace.
Overnight Jai Mahal Palace (B,L)
Day 12: Jaipur / Udaipur
After breakfast, take a short flight to Udaipur, a beautiful city set amidst the Aravalli Range of Rajasthan. Known as the "City of Lakes" and often referred to as the "Venice of the East," Udaipur offers a distinctive romantic and serene character (by India standards). Ancient narrow streets lined with colorful shops, fanciful palaces, temples, and ornately decorated residences add to the city's beauty and reflect a remarkable past.
Overnight: Taj Lake Palace (B,L)
Day 13: Udaipur
Rise and shine for breakfast and exploration. Explore Udaipur, including its own splendid City Palace, and survey the beauty of Lake Pichola during an afternoon boat ride.
The majestic white City Palace, located in the heart of Udaipur, was originally built by Maharana Udai Singh of the Sisodia Rajput clan and extended to its present form by subsequent Maharanas. Built in granite and marble and surrounded by fort walls, the largest palace complex in Rajasthan stands on a crest overlooking Lake Pichola. The rooms of the palace are adorned with beautiful paintings, inlay glass work, antique furniture, and colorful enamel. The Krishna Vilas has a remarkable collection of miniature paintings depicting the royal processions, festivals, and games of the Maharanas. Mor Chowk has unique glass mosaics of peacocks set in the walls.
Shimmering Lake Pichola is the beautiful expanse of water in the center of Udaipur. There are four islands on the lake, including Jag Niwas, where the Taj Lake Palace is located. Cruising Lake Pichola is a highlight of a stay in Udaipur, providing the opportunity to gain another perspective of the surrounding landmarks.
Overnight: Taj Lake Palace (B,L,D)
Day 14: Udaipur / Flight to Delhi / Depart for U.S.
Enjoy breakfast followed by time to relax and reminisce about this epic adventure. Perhaps venture into Udaipur to shop for unique silver accessories, lovely handicrafts, and printed fabrics. Or opt to stay back at Taj Lake Palace and take advantage of the property's world-class amenities, including a pool and full-service spa (additional fees apply). There will be an optional yoga session planned today for those interested.
Later, transfer to the airport for the connecting flight to Delhi. Upon arrival, head to the hotel and unwind in the available day room before the flight home.
Day Room: Radisson Blu Plaza Delhi Airport (B,D)
Day 15: En Route to U.S.

(Itinerary subject to change.)