Home
Duration

12 Days
Activity Level

Moderate
Group Size

190
Antarctica Discovery
Antarctica Discovery

Accommodations
Arakur Ushuaia Resort & Spa
January 12
On the first evening before embarkation, you will stay at the elegant and state-of-the-art Arakur Ushuaia Resort & Spa, perched atop an outcrop high above Ushuaia inside the Reserva Natural Cerro Alarkén. The property boasts a design that fulfills the standards of sustainable architecture. Each room features indigenous Argentine materials, including copper, marble, stone, woods, and leather.
During free time, explore the grounds or take a short trip on a complimentary shuttle into the city for sightseeing, souvenir shopping, or dining.
Room Amenities: Individual climate control, LED TV, complimentary Wi-Fi, phone, safe, bathrobes and slippers, and en suite bathroom with sundries and hair dryer.
Ocean Victory
January 13 - January 21
Accommodating 190 guests, Ocean Victory adeptly blends aesthetics, utility, and environmental responsibility to ensure comfort, adventure, and sustainability in Antarctica.
Ocean Victory boasts the highest Polar code 6 and Ice class 1A designations, making it an ideal vessel for small-ship expedition cruising. Sturdy construction and a patented X-Bow design create excellent maneuverability and enjoyable travel by reducing seasickness, noise, and vibration. Fuel requirements are also reduced by 60% due to the special X-Bow structuring.
All cabins are well-appointed and feature exceptional space, amenities, and ocean views. Suite categories include exclusive complimentary amenities, including laundry service and a well-stocked mini bar.
Public areas provide a convivial atmosphere for socializing and relaxation. Admire the surrounding scenery and spot for whales from two observation lounges, the outdoor bar, or while soaking in one of two hot tubs. Seize an opportunity to dine on deck eight in the specialty restaurant offering lava stone cooking. This unique and healthy food experience dates from the times of Vikings and makes for a dynamic and satisfying pairing with beverage selections from French wine tasting menus and organic coffees and teas.
Visit the polar library and curl up with tales of intrepid Antarctic explorers. Browse the onboard boutique gift shop for souvenirs, gain educational enrichment via discussions in the lecture room, and practice self-care with fitness and wellness options, including an infinity pool, gym, and spa facilities.
Built with an environmental focus, this vessel implements a green initiative program using only sustainable seafood and biodegradable laundry products, and eliminates single-use plastics. Special engine controls optimize speed and fuel consumption. In addition, the ship is equipped with dynamic positioning, granting it the ability to "drop" a virtual anchor almost anywhere. It maintains precise positioning using its own propellers and thrusters. This virtual anchor helps protect the sea floor and wildlife.
Cabin Categories: Each cabin offers exterior ocean views, individual climate control, closets, TV, writing desk and chair, and private en suite bathroom with bathrobes, shampoo, shower gel, and hair dryer. Each cabin can be configured as two twin beds or one king bed.
Albatros State Porthole Cabin (Cat. D): Porthole window (located on Decks 3 and 4—approx. 236 sq.ft.)
French Balcony Suite (Cat. E): Floor-to-ceiling windows (located on Deck 7—approx. 172 sq.ft.)
Balcony State Cabin (Cat. C): Private balcony with floor-to-ceiling windows (located on Decks 4 and 6—approx. 258 sq.ft.)
Balcony Suite (Cat. B1): Sitting area and private balcony with floor-to-ceiling windows (located on Deck 4—approx. 376 sq.ft.)
Balcony Suite/Triple/Family (Cat. B2): Sitting area and private balcony with floor-to-ceiling windows (located on Decks 4 and 6—approx. 301 sq.ft.)
Junior Suite (Cat. A): Additional sofa bed, sitting area, and private balcony with floor-to-ceiling windows (located on Deck 7—approx. 452 sq.ft.)
Premium Suite (Cat. PS): Two-room suite, additional sofa bed, table and chairs, and private balcony with floor-to-ceiling windows (located on Deck 4—approx. 484 sq.ft.)
Single Porthole (Cat. G): Porthole window (located on Deck 3—approx. 193 sq.ft.)
Triple Porthole (Cat. F): Additional sofa bed with a porthole window (located on Deck 3—approx. 226 sq.ft.)
Highlights:
All cabins have exterior ocean views, most featuring private balconies
Full-service restaurant with open seating, featuring contemporary, international cuisine prepared by talented chefs
Interactive dining experience available demonstrating the ancient and healthy lava rock cooking method
Stylish observation lounge with complimentary 24-hour self-service coffee and tea facilities, and staffed bar serving alcoholic and non-alcoholic beverages (additional fee)
Fully-equipped, modern lecture lounge for briefings by an expert Expedition Leader and the ship's naturalist guides
Cozy library with an extensive selection of books
Fitness area
In-house spa, featuring unique polar treatments by appointment (additional fee)
Two hot tubs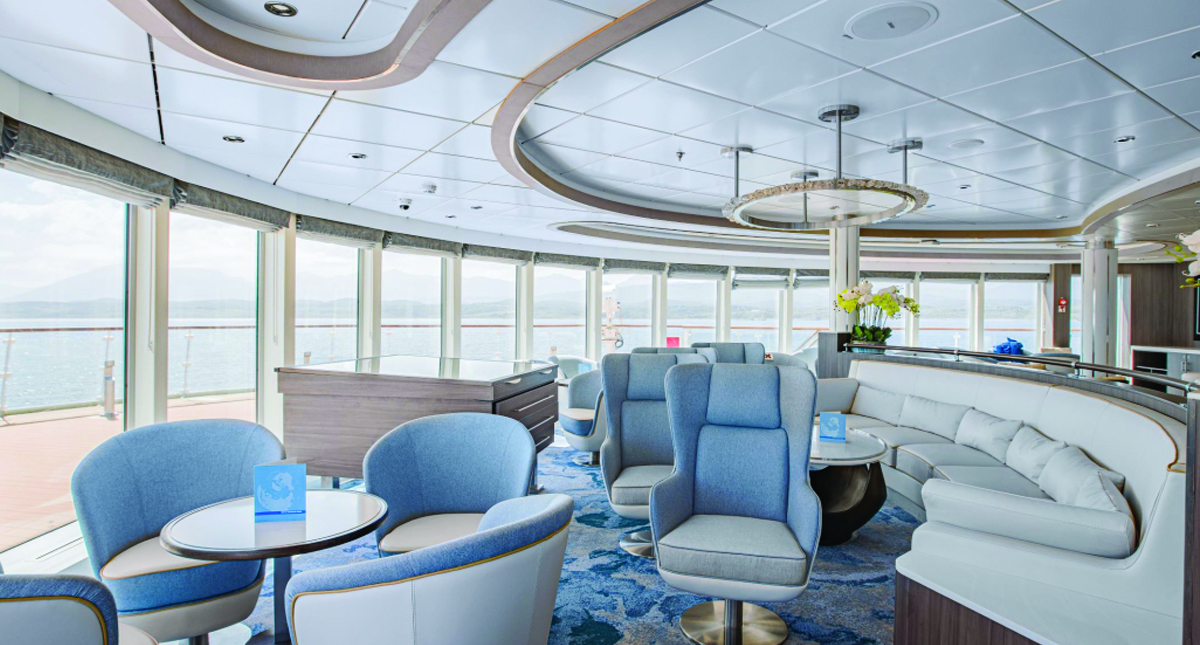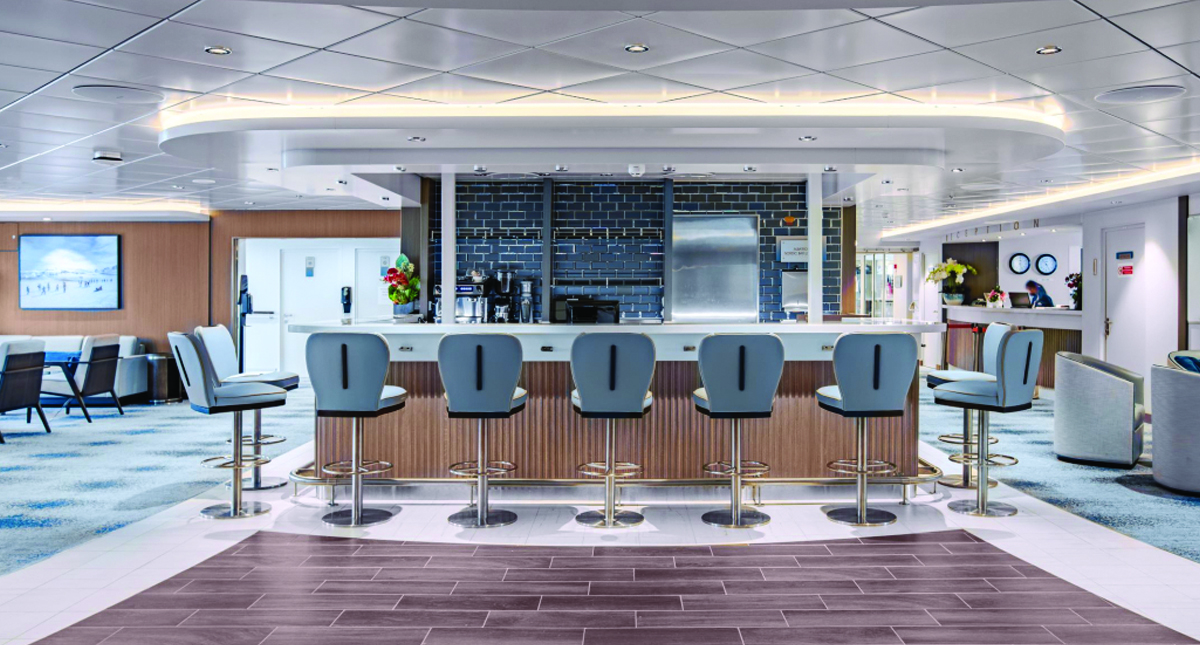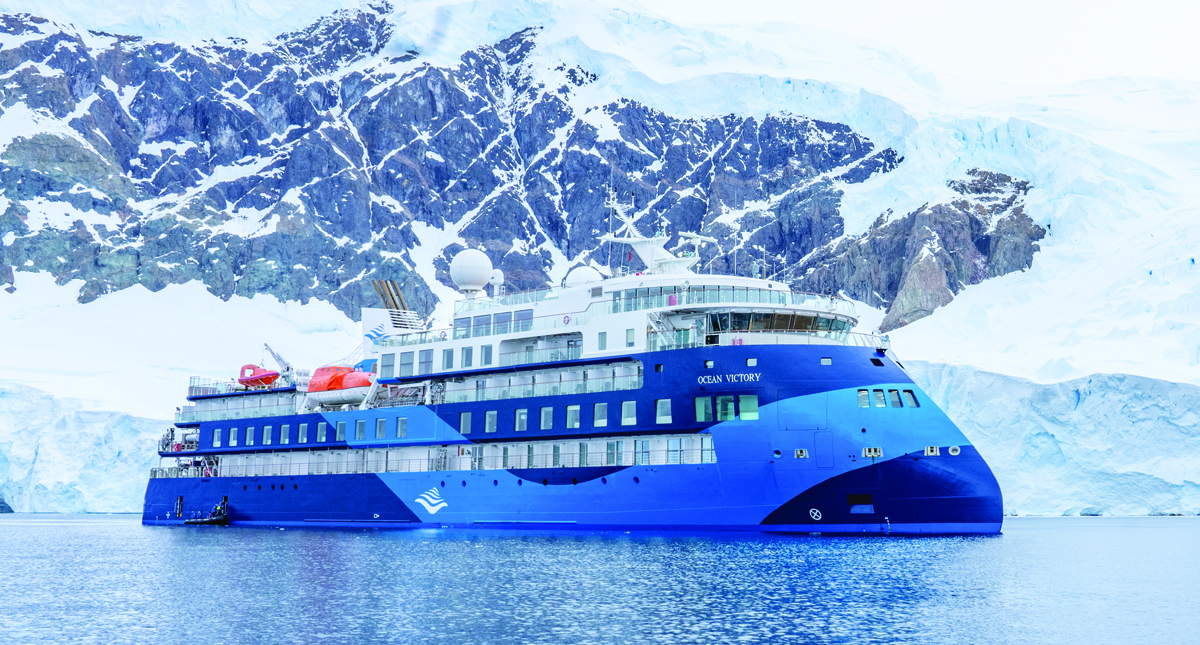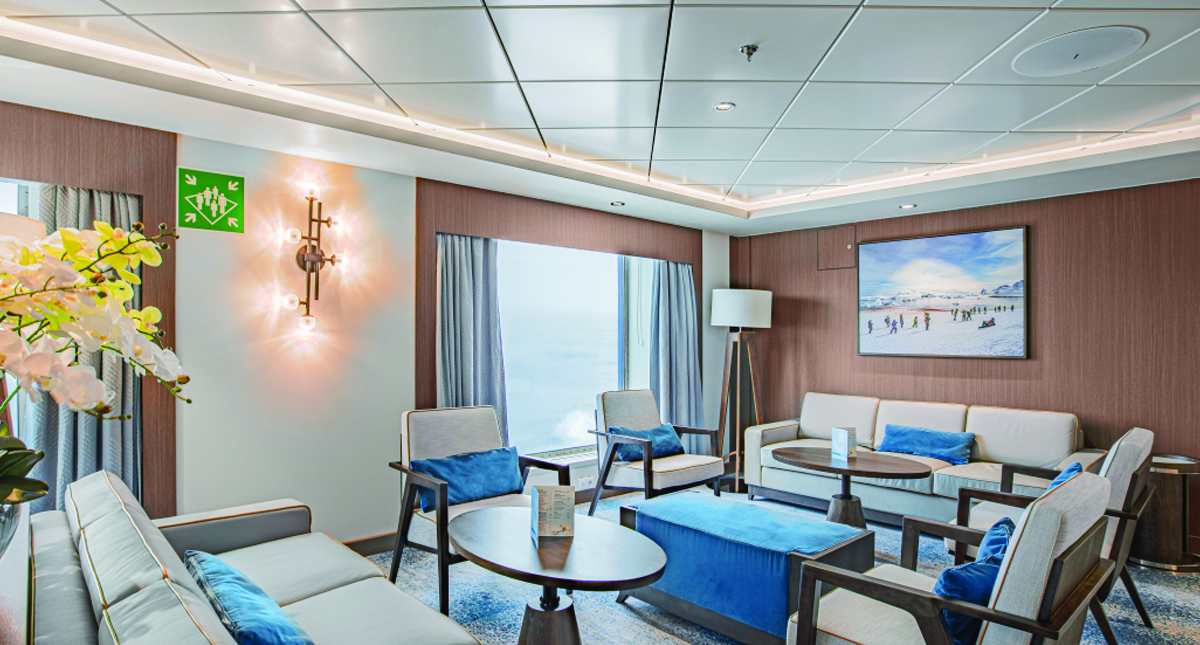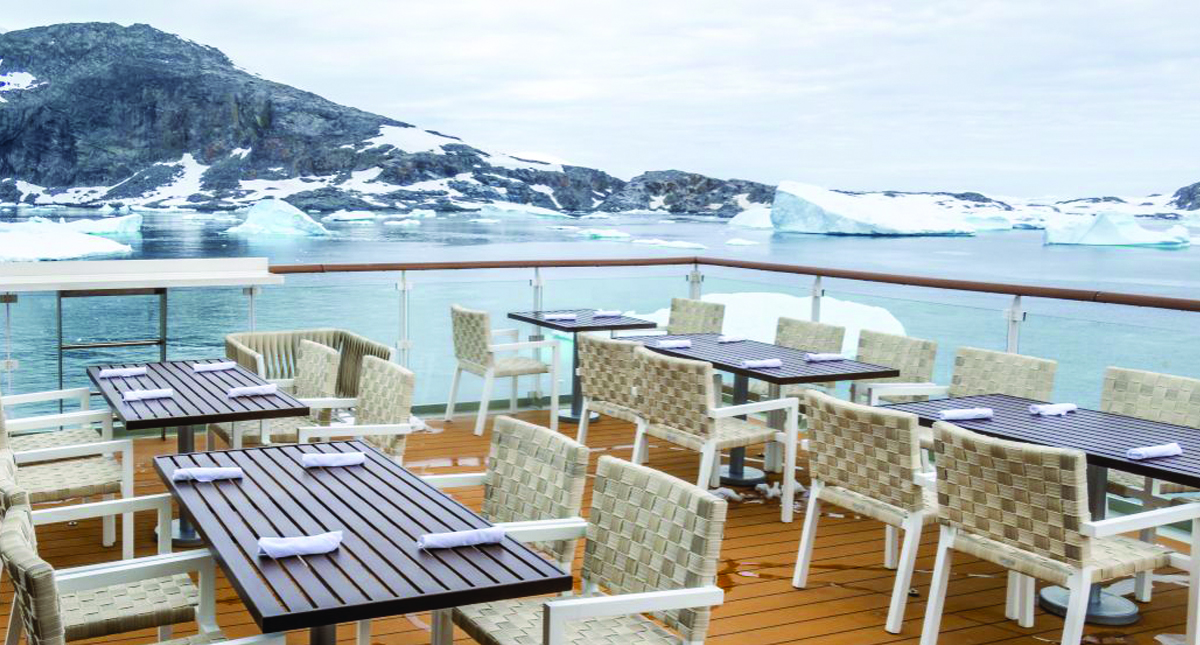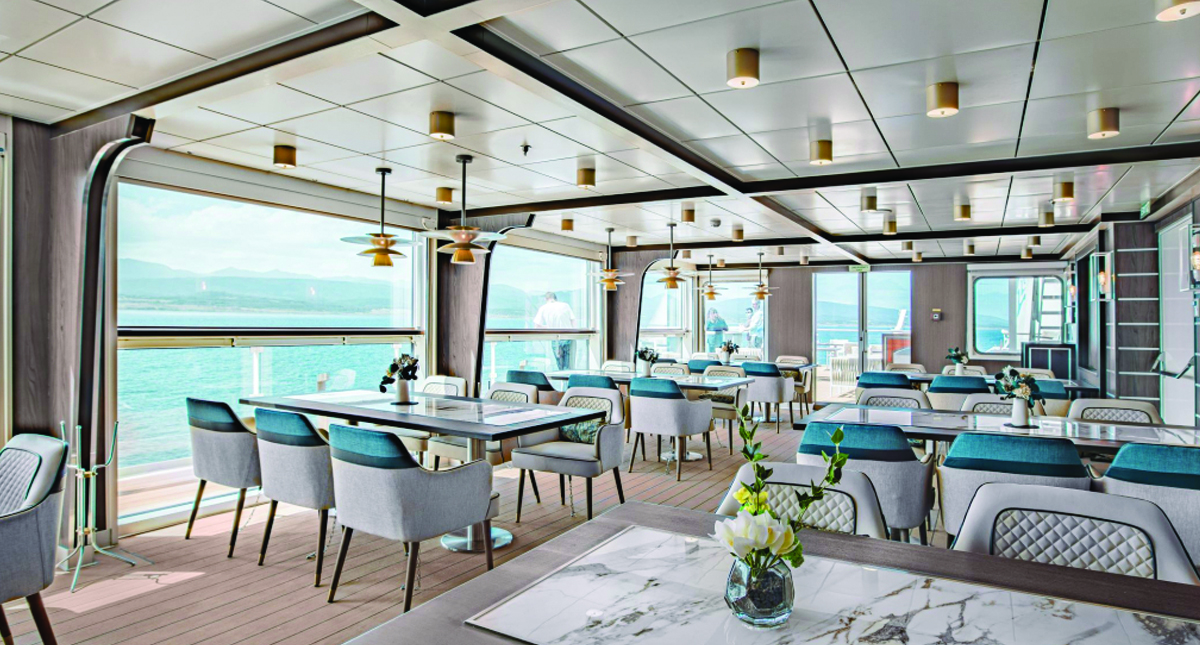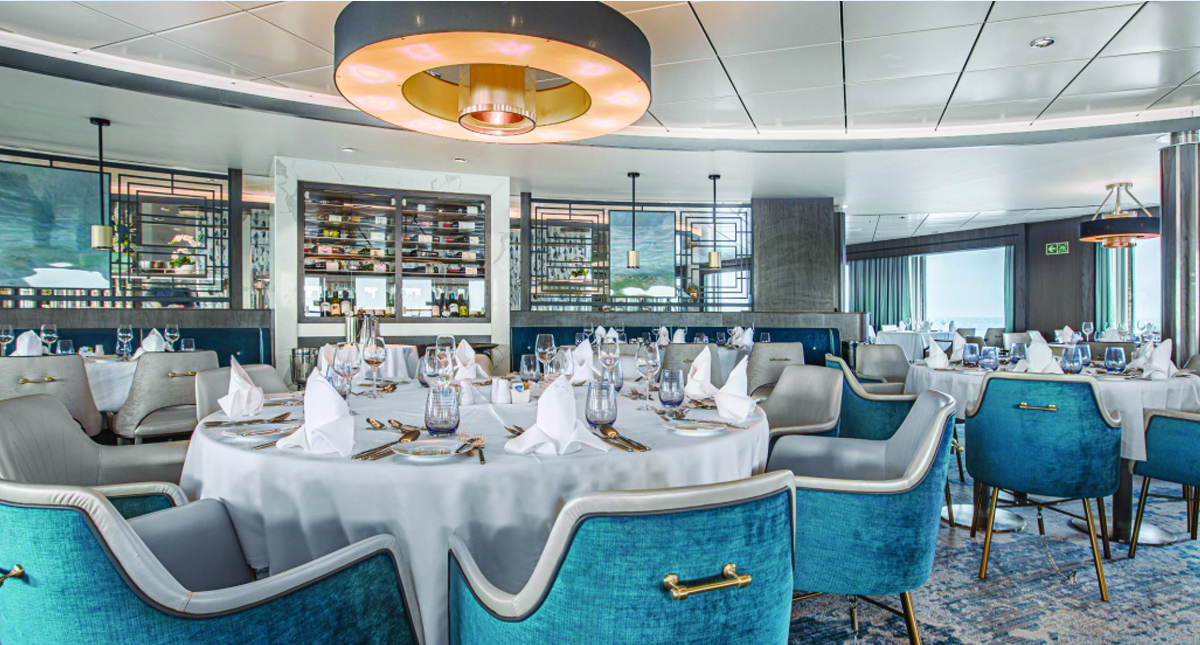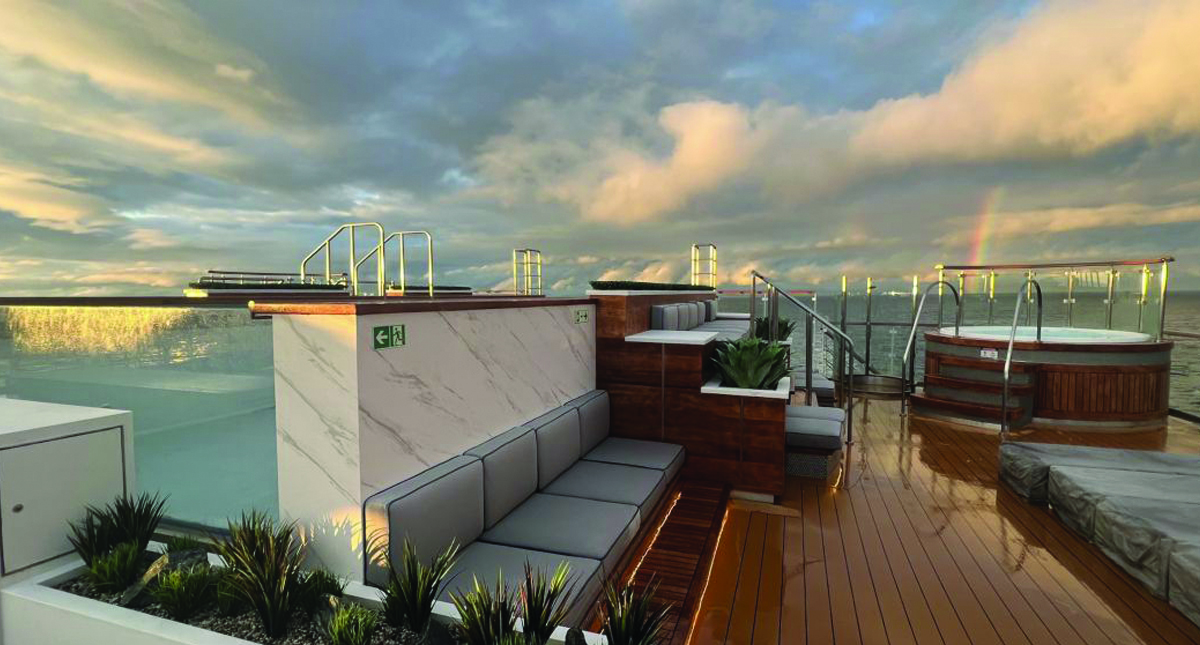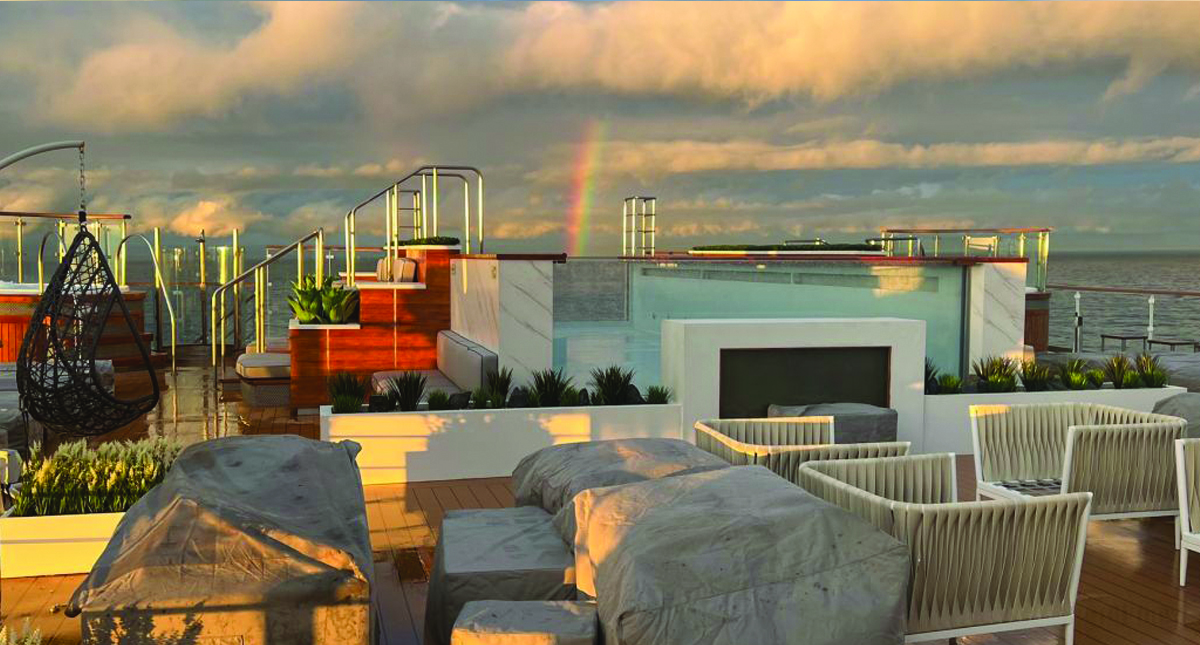 (Accommodations subject to change.)