Home
Duration

21 Days
Activity Level

Moderate
Group Size

62
Iconic Destinations by Private Jet
August 26 – September 15, 2024
Step aboard a private Boeing 767 jet plane for a once-in-a-lifetime travel adventure to discover some of the world's greatest icons, destinations, and UNESCO World Heritage Sites: Stonehenge, the Great Pyramids, Petra, the Taj Mahal, the Jantar Mantar Observatory, Angkor Wat, and the Sultan Qaboos Grand Mosque, to name a few. This uniquely curated program features insight from knowledgeable instructors and planned extraordinary excursions, providing special understanding into some of humankind's greatest achievements.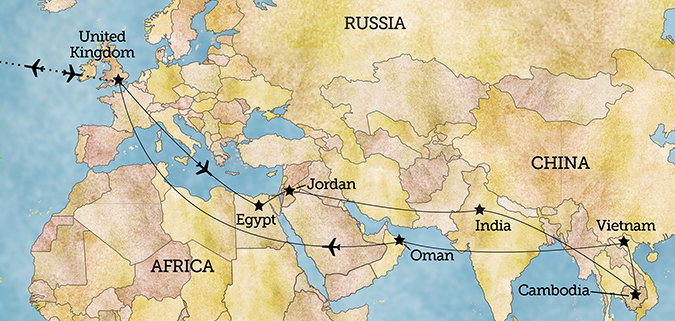 Highlights
– Revel in the comfort, convenience, flexibility, and efficiency of touring the world by private aircraft.
– With top experts, visit Stonehenge, the Great Pyramids, Petra, Angkor Wat, and the Sultan Qaboos Grand Mosque.
– At Avebury, view the largest prehistoric stone circle in Europe.
– Take a guided tour of the Egyptian Museum of Antiquities.
– See Jama Masjid, perhaps the largest mosque in India, constructed by Shah Jahan of red sandstone and white marble.
– Experience a breathtaking sunrise at Angkor Wat.
– Explore Prasat Bayon, built during the reign of the famous King Jayavarman VII from the late 12th century to early 13th century.
– Enjoy a private luncheon coastal cruise in Ha Long Bay.
– Gain a unique understanding of the cultures of seven countries, enjoying authentic interactions with local people at every destination.
What's Included
19 nights accommodations at 5-star hotels
Airfare for 7 flights aboard the private aircraft featuring experienced flight crew of 2 pilots, a flight manager, an engineer, a chef, and cabin crew
19 breakfasts, 17 lunches, and 17 dinners including a special welcome reception and farewell dinner
3 expert-led lectures
21 expert-led excursions
Full guiding services of an Orbridge Expedition Leader
All excursion transportation and entry fees
$100,000 medical evacuation insurance for covered reasons
All gratuities
To complete the Guest Information Form for this program, click here.