Home
Duration

7 Days
Activity Level

Moderate
Group Size

18
The Wolves & Wildlife of Yellowstone (Bozeman to Jackson)
February 3 – February 9, 2024
—View and download brochure—
Embark upon a thrilling wintertime expedition to Yellowstone National Park for a unique opportunity to witness packs of wolves in their pristine natural habitat. Aboard specially equipped vehicles that allow for both comfort and proximity to incredible wildlife, you'll have a chance to view wolves, bison, elk, an array of bird species, and other magnificent creatures that call the park home. Visiting Yellowstone in winter is an experience that transcends words. The air is crisp with the scent of pine trees and the promise of adventure. A serene hush envelops the snow-covered landscapes, providing the perfect backdrop to nature's drama unfolding before your eyes.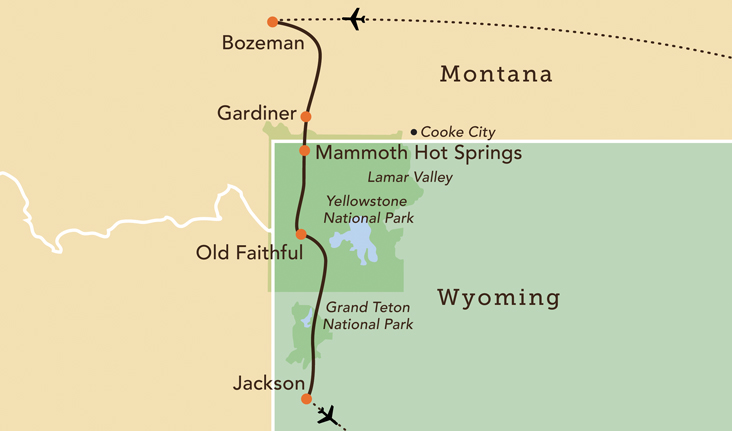 Highlights
– Venture into the heart of Yellowstone National Park to scout for wildlife aboard custom-outfitted safari vans. These heated vehicles feature oversized windows and a rooftop hatch for premium viewing from every seat.
– Prepare for incredible photography opportunities. Yellowstone is a prime location for spotting majestic wolves from a respectable distance.
– Keep binoculars close at hand as you explore this Serengeti of North America, home to the largest concentration of mammals in the lower 48 states. Resident bison, elk, pronghorn, bighorn sheep, moose, and other wildlife live among seven large predator species.
– Experience awe-inspiring geothermal features at Mammoth Hot Springs, including Old Faithful—a true icon of Yellowstone's marvels—as well as mud pots and fumaroles.
– Gain a deep understanding of the wolves' revival story as well as the vast flora and fauna that exist in this complex ecosystem from knowledgeable naturalists who will accompany you throughout this journey.
– Delight in a horse-drawn sleigh ride through the National Elk Refuge, a sanctuary to one of the largest elk herds in North America.
What's Included
6 nights accommodations
6 breakfasts, 5 lunches, 5 dinners (including special welcome and farewell dinners), and a wine and cheese reception
A fully guided program with 2 expert Orbridge Expedition Leaders who are professional naturalists
All unique excursions and activities listed in the 7-day itinerary, including transportation
In-field lectures and presentations, including an overview of the wolf packs and family trees, a naturalist's summary of the science and research on the biological impact of the repopulation of the wolves in the Greater Yellowstone Ecosystem, and a discussion of the political history of the wolves' reintroduction
Use of in-field gear, including high quality binoculars and spotting scopes, Yaktrax, snowshoes, and adjustable hiking poles
Hot beverages, water, and snacks throughout touring
Admission and park fees throughout
Luggage porterage
Gratuities to Orbridge Expedition Leaders, hotel housekeeping staff, drivers, porters, and wait staff for included meals
Airport transfers for guests arriving and departing during the suggested times