Home
Duration

11 Days
Activity Level

Moderate
Group Size

30
Journey Through Israel
May 8 – May 18, 2024
—View and download brochure—
Step back in time to the ancient world of the Middle East, where overwhelming history and architecture tower over the present day. Embrace the endless layers of spiritual and religious icons dotting this Holy Land, as well as numerous cultural and natural wonders.
From the scorching sands of the Judean Desert and the grand remnants of Ancient Rome in Caesarea Maritima to the most humble aspects of Nazareth—you'll have so many incredible opportunities to explore, learn and sample all that Israel has to offer. In between areas of great history and religious meaning, overnight at incredible accommodations, dine at amazing restaurants and shop at some of the most intriguing bazaars and markets filled with color, charm and excitement.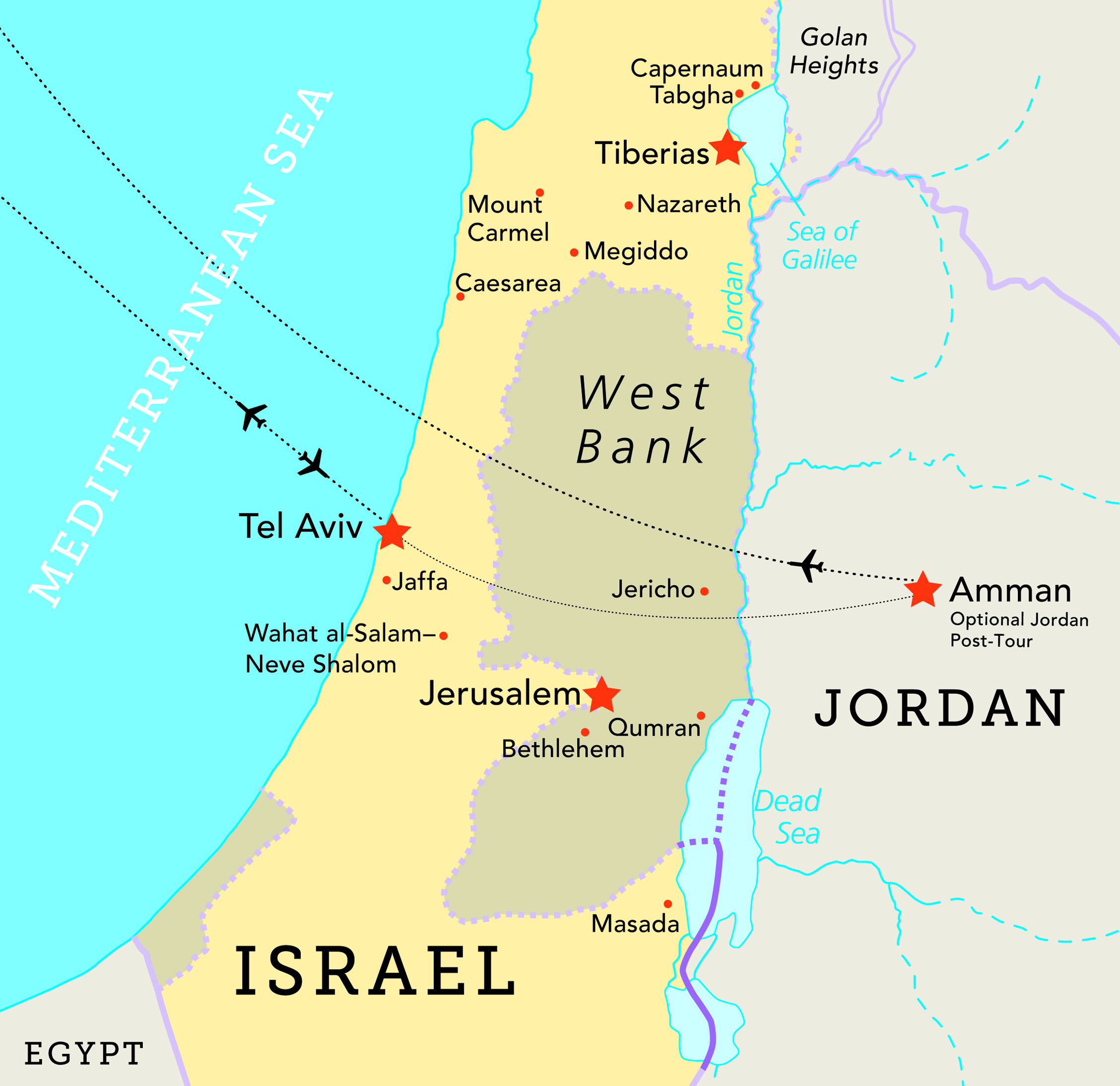 Highlights
– Visit Israel and the West Bank, learning from Israelis and Palestinians, and engaging with multiple perspectives to shed light on a complex region.
– Gain a balanced perspective and see sacred sites of the three major monotheistic faiths: Christianity, Islam, and Judaism.
– Embrace the stunning panoramic view of the Bay of Haifa from Mount Carmel.
– At Rosh HaNikra on the Mediterranean coast, take a scenic cable-car ride down to the sea grottoes to explore the fascinating geological formations that developed over thousands of years.
– Tour Jericho, known as the oldest city in the world with settlements dating back to 9000 BCE. Admire the stunning mosaics among the remains of Hisham's Palace and visit an ancient Greek Orthodox monastery built into the face of the Mount of Temptation.
– Peruse the extensive archaeological ruins at Beit She'an, including a 7,000-seat Roman amphitheater and a Byzantine bathhouse.
– Spend a full day exploring Jerusalem's Old City, its highlights including the Western Wall, Dome of the Rock, Via Dolorosa, and the Church of the Holy Sepulchre.
– In Bethlehem, visit the Church of the Nativity and the Shepherds' Field before viewing the graffiti art on the border wall.
– Tour Bethlehem University and interact with faculty and student ambassadors.
What's Included
9 nights luxury hotel accommodations
9 breakfasts, 6 lunches, and 6 dinners including a special farewell dinner
All excursions listed on the 11-day itinerary, including admission
Excursion transportation
Gratuities to Orbridge Travel Director, local guides, drivers, porters, and wait staff for included meals
Group airport transfers for guests arriving and departing during the suggested times