Home
Duration

8 Days
Activity Level

Moderate
Group Size

76
Discover Southeast Alaska (Juneau to Sitka)
The unyielding forces of nature are on full display throughout Alaska's Inside Passage. Mountains erode by the crushing force of massive glaciers, icebergs drift across aquamarine waters, and the life cycles of flora and fauna are compressed into the scant weeks of an arctic summer. During this expedition cruise, navigate narrow channels and waterways with skilled naturalists at your side—ready to encounter Alaska's abundant wildlife, breathtaking peaks and fjords, and ice-blue glaciers of unfathomable proportions.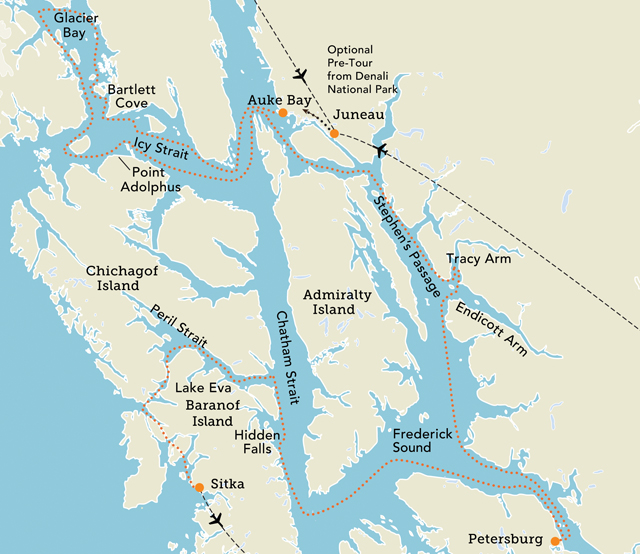 Highlights
See the spray of whales only yards away and venture into secluded inlets as you get up close to nature, whether from the decks of the Chichagof Dream or aboard its skiffs and kayaks.
Accompanied by expert naturalists, including an Orbridge Expedition Leader, learn surprising details about animal behavior, glacier activity, and the wealth of natural spectacles along these protected waters.
Discover Alaska's culture and living history during a visit to the Alaska State Museum.
Visit Mendenhall Glacier Visitor Center and a salmon hatchery.
Take a guided tour of the Norwegian fishing community of Petersburg.
Cruise around the pristine waters of Glacier Bay National Park and Preserve to see the sanctuary's deep fjords, tidewater glaciers, and snow-capped mountain ranges.
Meet a National Park Ranger for a guided walk during your visit to Glacier Bay National Park.
What's included: 7 nights aboard the Chichagof Dream; all onboard hand-crafted meals: 7 breakfasts, 6 lunches, and 7 dinners—including a special Captain's Farewell Dinner, and complimentary wine and beer at dinner; an onboard lecture program and educational guidance of two expert naturalists, including an Orbridge Expedition Leader, and a walk guided by a Park Ranger during a visit to Glacier Bay National Park; guided kayaking, hiking, walking, skiff excursions, and wildlife viewing; all port fees and entry fees to parks, preserves, museums, attractions, and special excursions as described in the itinerary; gratuities for Orbridge Expedition Leader, airport transfer drivers, and drivers/guides on included land excursions; airport transfers for guests arriving and departing during the suggested times.