Home
Duration

6 Days
Activity Level

Moderate
Group Size

40
Discover Southeast Alaska (Sitka to Juneau)
Extend your adventure in the beautiful "Last Frontier" of Alaska with a small-ship expedition cruise. Navigate narrow channels and waterways with skilled naturalists at your side—ready to encounter Alaska's abundant wildlife, breathtaking peaks and fjords, and ice-blue glaciers of unfathomable proportions. This extension showcases Alaska's breathtaking scenery, a variety of cultural activities, and the well-appointed, agile vessel Chichagof Dream.
Itinerary
Day 6: Arrive in Sitka – Embarkation
Today, travel to Sitka from Anchorage after enjoying Denali National Park on the six-day Discover Denali National Park tour.
After arriving, immerse yourself in the Tlingit culture at a Sheet'ka Kwaán Naa Kahídi (which roughly translates to "The clan house for all the people of Sitka") dance show.
Later, visit the Alaska Raptor Center—Alaska's foremost bald eagle hospital and educational center—with a local guide. Then, venture to Sitka National Historical Park, where you'll learn the history of the area that served as the battle site between Russian traders and the indigenous Tlingit. Stand in awe before the massive totem poles lining the park's coastal trail, and gain insight into their powerful symbols.
Late afternoon, transfer to the Chichagof Dream for embarkation. Enjoy your first dinner on board as you get to know your Expedition Leader, naturalists, crew, and travel companions.
Overnight: Chichagof Dream (D)
Day 7: Icy Strait / Chichagof Island
Relax on deck with your binoculars and a hot cup of cocoa as you sail through Icy Strait in search of wildlife, including orcas (killer whales), Steller sea lions, seals, porpoises, and magnificent humpback whales. Along the shore, perhaps catch sight of bald eagles in the treetops. Choose from activities such as kayaking, skiff rides, and hiking.
Overnight: Chichagof Dream (B,L,D)
Day 8: Glacier Bay National Park
Arrive in Glacier Bay National Park, where scientists have found exposed rock that's believed to be more than 200 million years old. While at Bartlett Cove, visit the park lodge and visitor center or participate in a guided forest hike. Meet a National Park Service Ranger and a Native Huna Tlingit Cultural Heritage Guide, who will come aboard and accompany you during your time in Glacier Bay National Park. Watch for puffins, sea lions, harbor seals, sea otters, mountain goats, bears, and eagles—and take in some of the most spectacular scenery in Alaska.
Overnight: Chichagof Dream (B,L,D)
Day 9: Eastern Baranof Island / Lake Eva
Spend the morning cruising through the Peril Strait to Hanus Bay. In the afternoon, enjoy free time at Lake Eva to kayak, take a guided hike, or join a skiff excursion.
Overnight: Chichagof Dream (B,L,D)
Day 10: Hidden Falls
During a rare tour of the Hidden Falls Hatchery, learn about the release of Chinook, coho, and chum salmon fry and smolts, and the vital role fishing has held in Alaska for centuries. In the evening, share the day's adventures with your fellow travelers over dinner.
Overnight: Chichagof Dream (B,L,D)
Day 11: Petersburg / Frederick Sound
Arrive early at the charming fishing village of Petersburg, founded by a Norwegian fisherman in the late 1800s. Tour the town with a local guide and see the local youth perform a spirited dance celebrating their Norwegian heritage. Explore the town on your own, then return to the Chichagof Dream for lunch. Afterward, take a skiff excursion for a beautiful guided hike at Petersburg Creek across Wrangell Narrows. Depart Petersburg in the late afternoon and sail through Frederick Sound in search of whales.
Overnight: Chichagof Dream (B,L,D)
Day 12: Tracy Arm Fjord
Today experience Tracy Arm, a narrow fjord that winds through towering mountains and massive glaciers. Witness the "calving" of glaciers as gigantic chunks of ice break and crash into the water. Watch for harbor seals that often dot the ice floes and mountain goats on nearby perches. In the afternoon and conditions permitting, glide through and discover coves or bays by kayak or skiff, soaking in the splendor of some of the most untouched wilderness in the world. Recount your trip highlights with fellow travelers tonight during a Captain's Farewell Dinner.
Overnight: Chichagof Dream (B,L,D)

Day 13: Auke Bay / Juneau – Disembarkation
Disembark this morning after breakfast and take your complimentary shuttle to the airport for your flight home. (B)
B = Breakfast, L = Lunch, D = Dinner
Post-tour space is limited, so it's recommended to reserve early for best availability.
(Itinerary subject to change.)
Activity Level
Moderate
This program offers a variety of activities: powered inflatable boat rides, walking, hiking, and kayaking. Activities are not strenuous for guests with average mobility. Walks and hikes are leisurely in pace to allow guests the opportunity to see and learn as much as possible about the region. Powered inflatable boats provide the mode for much of the exploration on this program and sure-footed guests can enter/exit them with little trouble. The Chichagof Dream crew is diligent in assisting guests while boarding and exiting the ship and small craft. Guests with no previous experience can easily handle the double kayaks. We expect that guests on this program can walk with good balance and go up and down stairs easily without assistance, as the Chichagof Dream does not have an elevator.
Accommodations
Chichagof Dream
Accommodating 76 guests, the 207-foot Chichagof Dream was designed to go where large ships cannot—navigating guests to the best views possible of the surrounding nature-filled landscape. Experience Alaska up close as you watch for wildlife from skiffs or kayaks and learn about the indigenous peoples of the region. On board the ship are your knowledgeable crew, Orbridge Expedition Leader, and expert naturalists who share their hospitality, uncanny knack for spotting wildlife, and fascinating secrets behind the bountiful beauty that surrounds you.
The ship's well-appointed, intimate, and unassuming style allows travelers to experience the true heart and soul of Alaska. The Chichagof Dream features expansive viewing areas on the bow and aft outdoor promenade decks, a hull design optimized for supreme comfort in Alaskan waters, and forward-facing windows in the spacious lounge that extend from the deck to the ceiling, offering panoramic views off the bow.
Enjoy a relaxed cruising speed ideal for viewing the endless surrounding fjords, glaciers, and wildlife. The ship offers complimentary expedition gear while touring, including rain jackets, rain pants, and boots. Plus, each stateroom is outfitted with binoculars. Nothing will be missed as you leisurely traverse the channels, bays, and islands of Southeast Alaska.
After each exciting day of exploration, enjoy delectable hors d'oeuvres and convivial conversation in the lounge before delighting in a five-star dining experience—where talented onboard chefs create mouthwatering masterpieces using fresh, locally sourced ingredients.
During free time, take advantage of the open wheelhouse policy. Visit the captain and officers on the bridge, view the charted course, hear ship-to-ship communications, and listen to stories from experienced Alaskan mariners.
Or perhaps experience the ship's Himalayan salt cave, theorized by some to provide holistic properties via halotherapy. From the Greek "halos," which means "salt"—this spa treatment uses dry aerosol micro-particles of salt or minerals inside of an arid space to simulate the microclimate of salt mines.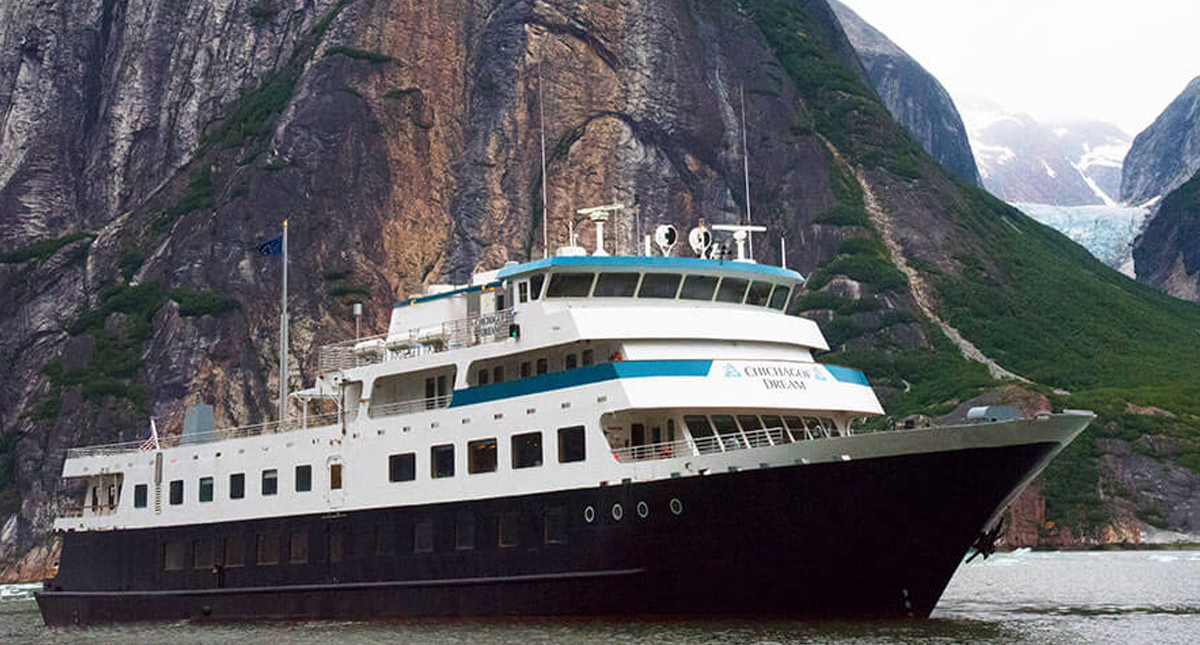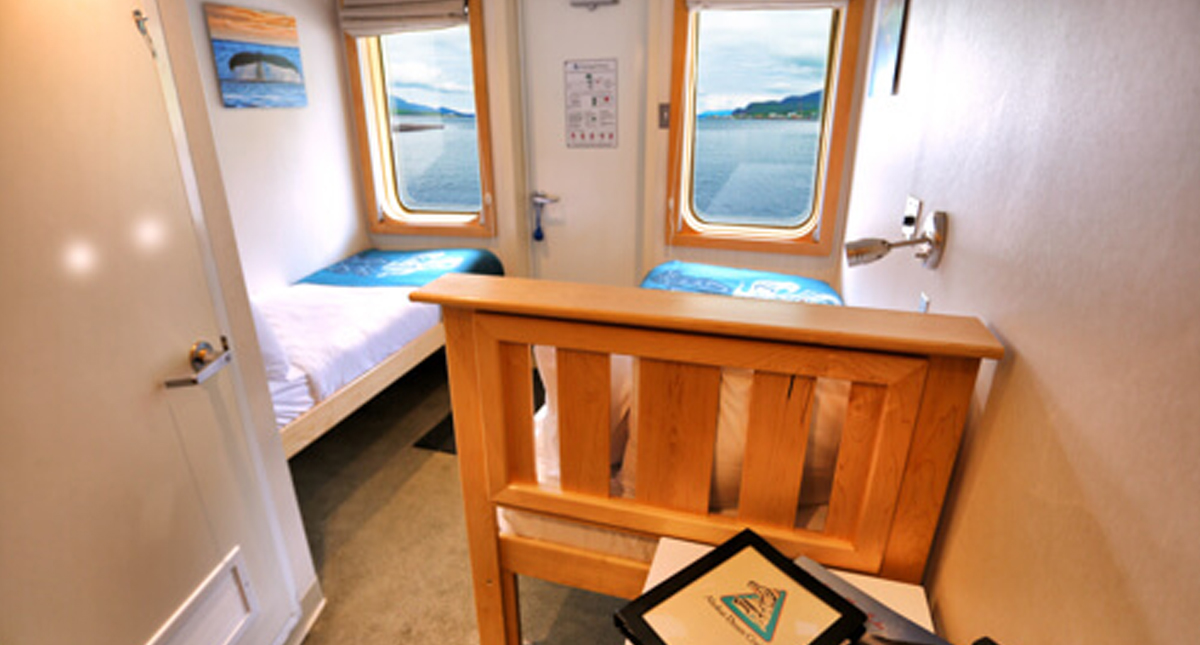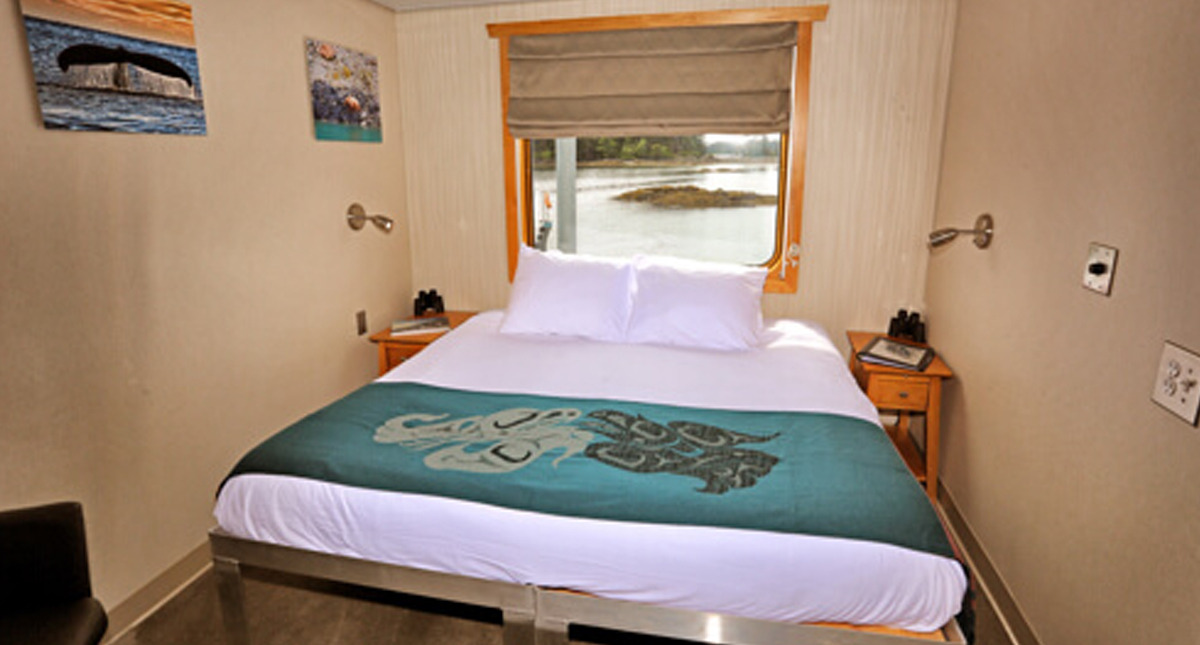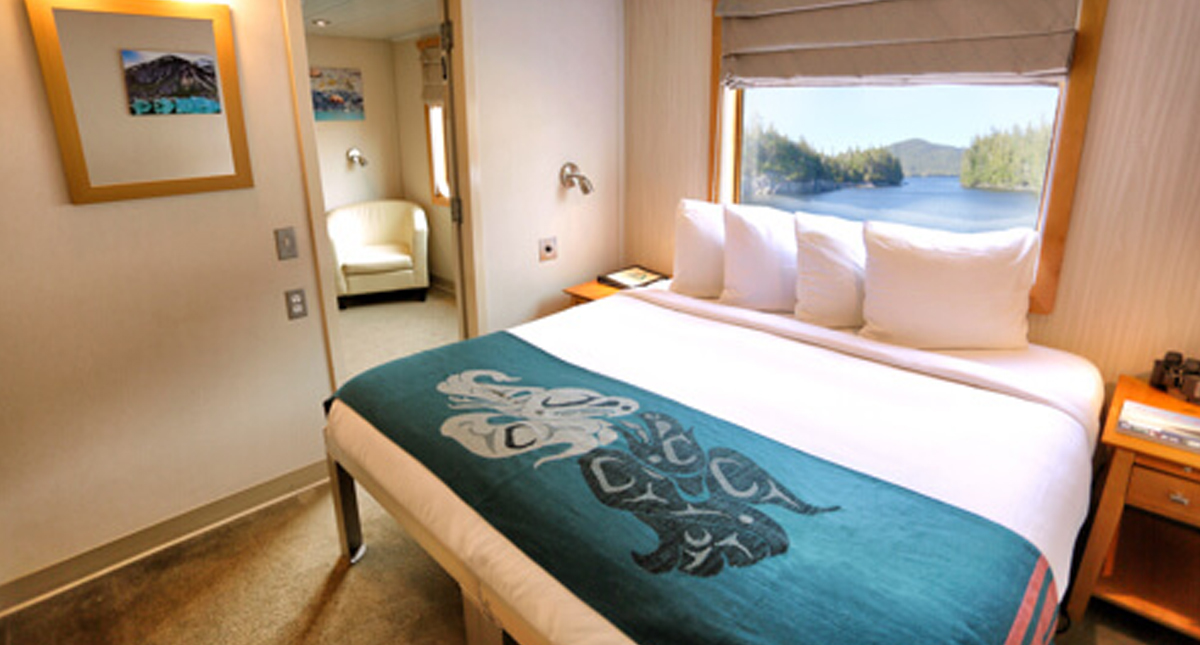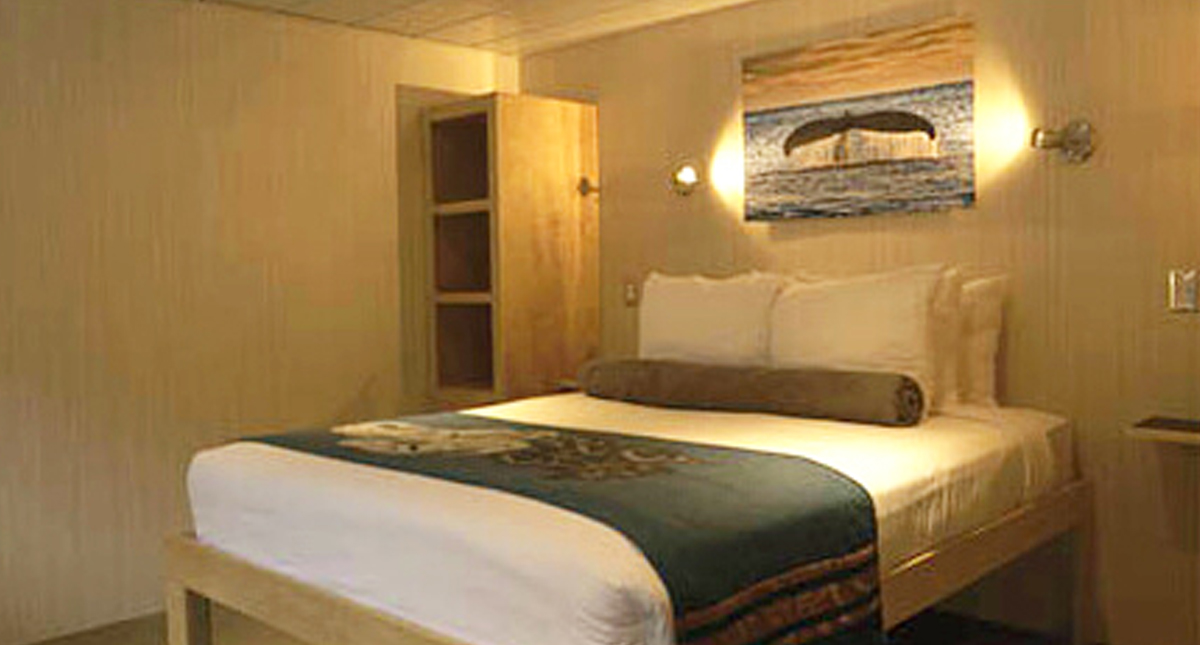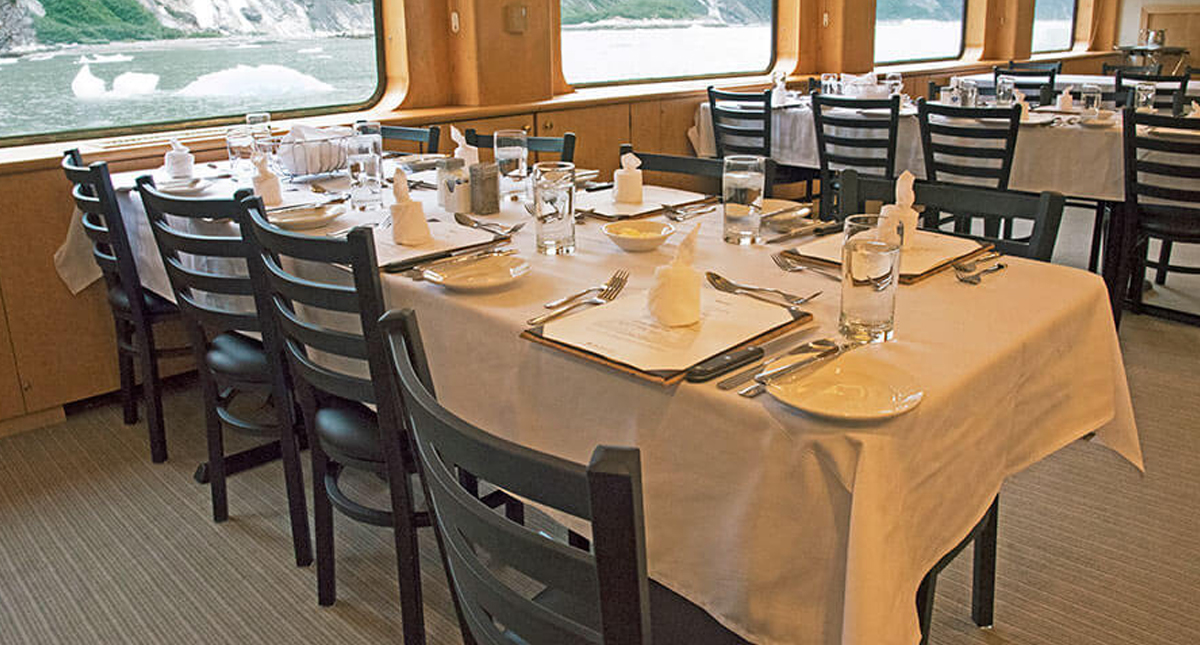 (Accommodations subject to change.)
Post-Tour Rate***
Category A: $4,899
Category AA: $6,299
Category AAA: $6,899
Deluxe: $8,999
Deluxe Suite (Upper Deck): $9,999
Triple/Quad: $6,899
Single (Cat. AA): $9,999
Single (Cat. AAA): $10,499
Post-tour rate is per person based on double occupancy except where noted as Single, in U.S. dollars. Single availability limited. Airfare not included.
What's Included
7 nights aboard the Chichagof Dream
All onboard hand-crafted meals: 7 breakfasts, 6 lunches, and 7 dinners—including a special Captain's Farewell Dinner, and complimentary wine and beer at dinner
An onboard lecture program and educational guidance of two expert naturalists, including an Orbridge Expedition Leader, and a Park Ranger and Native Huna Tlingit Cultural Heritage Guide during a visit to Glacier Bay National Park
Guided kayaking, hiking, walking, skiff excursions, and wildlife viewing where humpback whales, orcas, brown bears, Steller sea lions, harbor seals, sea otters, arctic terns, bald eagles, and other populations are frequently spotted
All port fees and entry fees to parks, preserves, museums, attractions and special excursions as described in the itinerary
Gratuities for Orbridge Expedition Leader, airport transfer drivers, and drivers/guides on included land excursions
Airport transfers for guests arriving and departing during the suggested times